Dear Editor:
We would like to thank so many people for helping to make the second annual Nick Lancaster Memorial Golf Tournament a huge success. This tournament would not have happened without the players, sponsors, volunteers and over the top golf course staff. The following businesses/individuals sponsored holes, teams and/or contests: Utah Gas Corp, Mountain View Adventures — Bob and Cathy Redmon, Joe Reed Team RE/MAX 4000, Urie Rock Company/Urie Trucking, James Kuck, Big D's—Dylan and Mandi Smuts, Ducey's Electric, Bank of the San Juans, Professional Touch, Julie Lane, Prater's Plumbing and Heating, Five Grow—Brian and Marcia Prater, Rangely True Value, Giovanni's Italian Grill, ColoCPA Services, Napa, Pam Powell and Kenny Meis and Jon and Amorette Hawkins. Additional thanks to the Mullen Investment Group (Mike Mullen) for sponsoring the Hole in One Competition for the second year in a row and donating a match of the proceeds generated from it, and to Beth Schofield for running it. Also thank you Trey and Candra Robie for sponsoring the keg contest two years in a row.
We would also like to thank Kevin and Chelsea Hejl, Cedar Ridges Golf Course, Mike and Debbie Lancaster, Pinyon Tree Liquor, El Agave, Blue Mountain Inn and Suites, Rangely Conoco, Colorado Northwestern Community College, Ryan and Cori Elam, Yardley's Automotive, First String, White River Market, Celesta Mullen and Henry Kiang, Gary Denny, Nate Gill and Rick Hellmuth for donations for the tournament. Big thanks to Crimsen and Jeren Blankenship for cooking the lunch sponsored by the Hawkins. Thanks also to Jeff LeBleu for loaning us his grill. A huge shout out to Mr. Andy Shaffer for coming to the rescue and repairing the grill on such short notice!
Thanks to Sylvia Dembowski of Get Your Stitch On (for making) and Justyne Peters of Heifer Gang Clothing (for designing) the golf towels and koozies for the tournament — you ladies always come up with the coolest swag. Also, thanks to Gary and Kathy Staley at Sweetbriar for selling merchandise in their store for us.
Not sure where to even start to thank Keenan LeBleu. How about for everything?! You are the bomb!
Most of all we would like to thank Chris Hejl (and his staff, Chandelle Kenney and Ashley Bryant) for all of the things that happen behind the scenes to pull one of these tournaments off. You are a rock star! Last but not least, thanks to the Executive Director of the Rec District, Mr. Tim Webber, for overseeing such an amazing facility and to have the caliber of people that he does working there.
We hope to do it all again next year!
Bleed Green!
The Family of Nick Lancaster and the Bleed Green #17 Foundation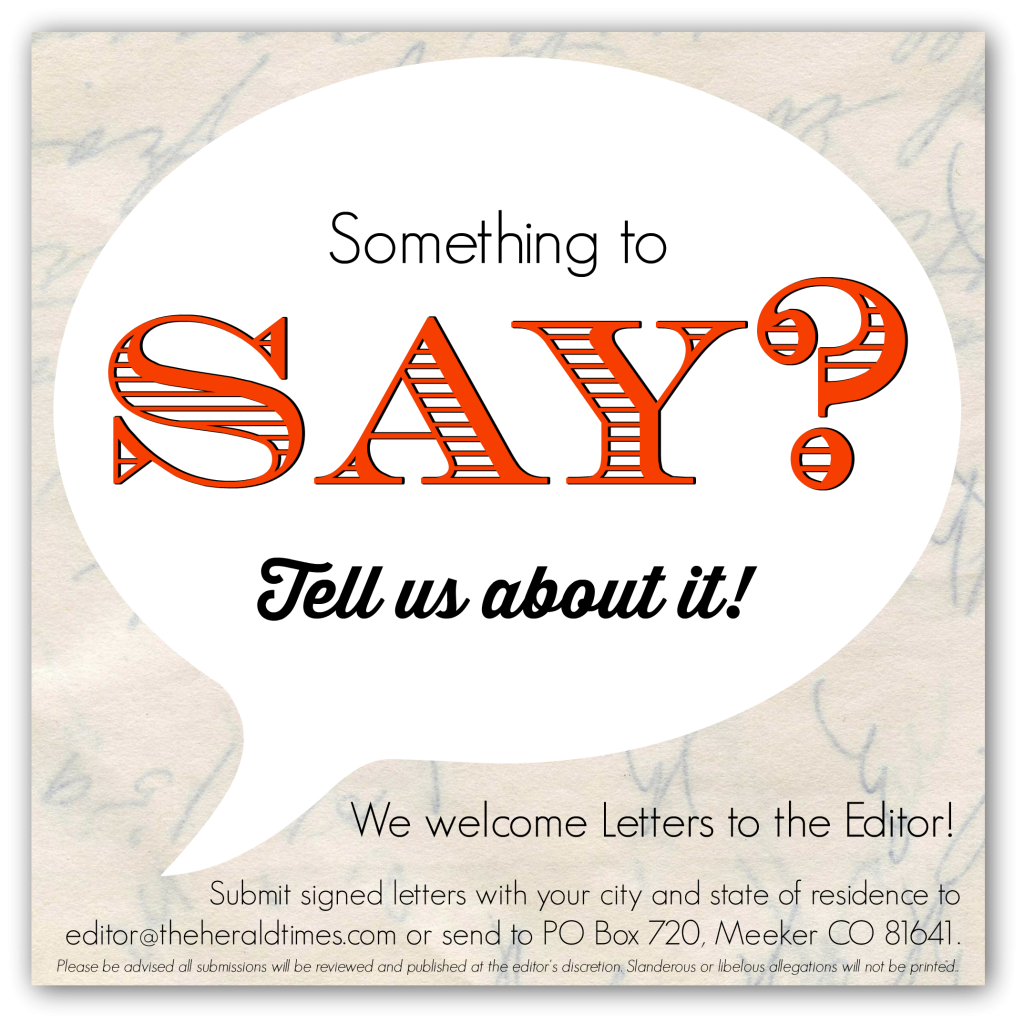 ---
Thoughts expressed on opinion pages are exclusively those of the writer and do not necessarily reflect those of the Herald Times. You are welcome to submit signed letters on matters of local interest to editor@ht1885.com, mail to PO Box 720, Meeker, CO 81641 or drop off at 304 4th St., Meeker. there is no charge.
Due to space constraints, please keep submissions 500 words or less.
Facebook Notice for EU! You need to login to view and post FB Comments!