Meeker High School senior Nick Massey shared his firsthand experience with the grief counseling provided by HopeWest last Saturday at the Fairfield Center. After losing his grandfather, Massey began attending a grief group for young
[...]
MEEKER | It's not every day that Kris Casey's class gets to have a visitor, let alone a visitor who served our country on one of the United States most important days. On Sept. 11,
[...]
Hair Hut hosted a grand re-opening celebration last Friday at their new 1083 Market Street location. Owner Julia Haines (left center) and stylist Cahlie McCollum (right center) cut a ribbon provided by Meeker Chamber of
[...]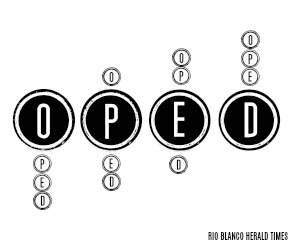 RBC | Here are a few random observations of note: The Intergovernmental Panel on Climate Change (IPCC) just released its report on Oceans and Cryosphere (IPCC 2019a.)  (The cryosphere comprises regions of ice and snow,
[...]
MEEKER | "Do you ever get over the blueness of the sky?" is a question that has been asked by more than a few visitors to our house over the years. Most of them are
[...]
RANGELY | The Rangely Junior High School had their last meet of the season on Saturday, Oct. 4. They ran the Pantherfest at the Confluence Park in Delta, Colorado. The team was missing a few
[...]
MEEKER | What a beautiful fall day for the final home games of Mustang football. Starbuck Stadium had a full schedule with the middle school teams playing at 10 a.m. and noon. At 2:30 p.m.
[...]
Meeker Sports
MEEKER | Cowboy softball continues to struggle. In the 10 games they have only added one "W" to the win column for a current record 3-18 overall and 3-10 in the league. Last Saturday the
[...]
The WRBM Rec and Park District would like to send a thank you out to the Rangely High School football and volleyball teams for volunteering their time to work with us and the first-fifth grade
[...]
August: Tiffany Holmes, Emeliano Rocha RANGELY | Rangely students of the month for August are Tiffany Holmes and Emeliano Rocha.   Holmes plans to attend Eastern Wyoming College in Torrington Wyoming, and will study to become
[...]
RANGELY | Rangely Town Manager Lisa Piering told the board of trustees Tuesday they are invited to attend the Moffat County Affiliated Junior College District Board of Control meeting on Oct. 21 in Craig to
[...]
RBC | At one time or another most of us have found ourselves in a bad situation that we have never experienced before; so what do you do in those situations? Keeping calm and safe
[...]
RBC | Ninth Judicial District Attorney Jeff Cheney made his annual visit to the Rio Blanco County Commissioners meeting to discuss the budget for his office in the coming year. "This year we have presented
[...]
County
RBC | It's not hemp or marijuana; it's a little-known flowering plant—technically, two species from the same plant family—native to eastern Utah and far western Rio Blanco County. Graham's beardtongue (Penstemon grahamii) and White River
[...]
County
RBC | The Colorado River District has been named the 2019 J. Evan Goulding District of the Year by the Special District Association of Colorado.    The J. Evan Goulding District of the Year Award
[...]