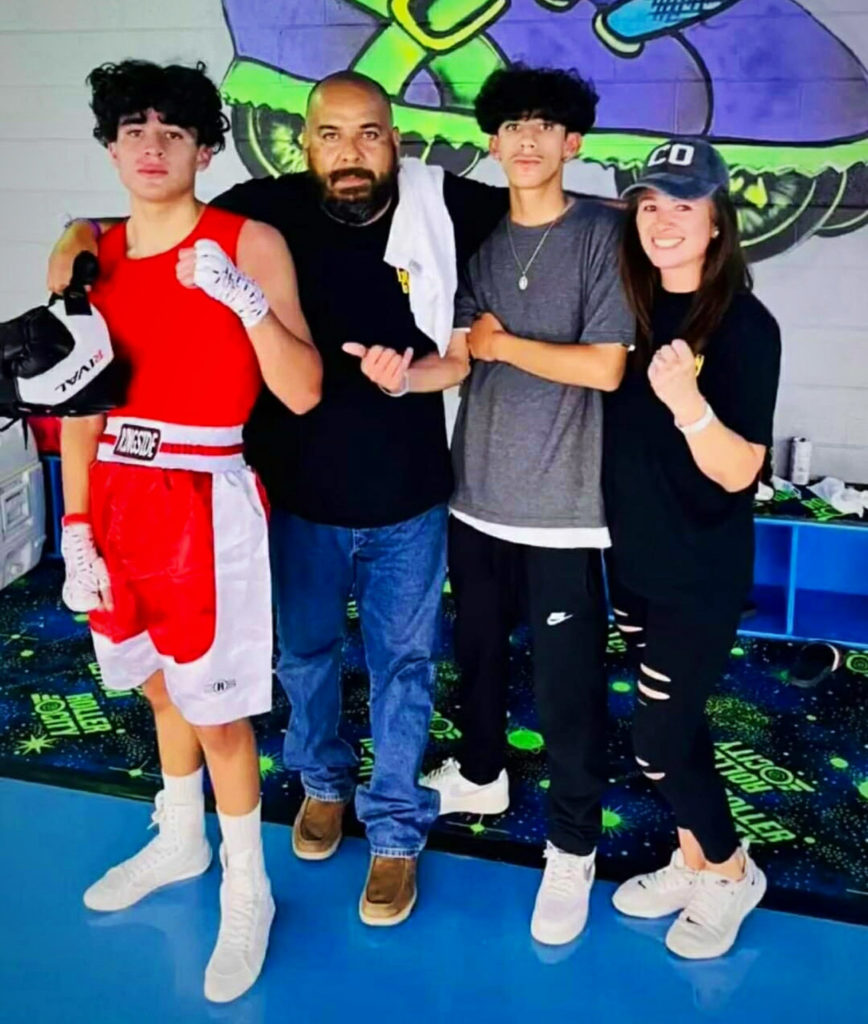 RANGELY | Alex and Jaime Sanchez, boxing brothers and coaches at Sanchez Brothers Boxing Gym in Rangely, have been working their way through the boxing world. Alex, 17, is a soon-to-be Rangely Jr./Sr. High School senior. He has taken a step back from his own boxing career to coach Jaime, 15, a soon-to-be high school junior. Alex said using his knowledge to help other kids and adults is his favorite part of coaching. While he is unsure if he will ever compete again, he has turned all his efforts toward coaching his younger brother and is confident Jaime will become the "p4p" (pound for pound) world champion. He says it's "pretty dope" training his brother because they have a tight relationship.
In June Jaime, who has been boxing since he was eight years old, fought in the Colorado Golden Gloves annual charity boxing tournament in Lakewood, Colorado. The tournament matches are sanctioned by USA Boxing. The nonprofit organization enriches the lives of amateur boxers through academic scholarships, grants and community outreach, while providing boxing enthusiasts the experience of the sport. After immense discipline and commitment Jaime went from 160 pounds to 138 to compete against Rocky Ford boxer Cashius Jackson. Jaime was victorious and moved on to the championship round on June 11. When the dust settled Jaime had fought three matches, had two wins, and earned the 2021 Colorado Golden Glove runner-up trophy in the 14-15 year old; 138 lb. weight bracket. His performance solidified what others in the community and his family see in him, the heart and determination of a true champion.
When other kids are hanging out, Jaime's training. His training schedule includes running three miles every day and training at the boxing gym four-five times a week. When Jaime isn't at school, training or boxing, he enjoys playing video games and skateboarding. His favorite part of competing in the Colorado Golden Gloves Tournament was fighting three times in just four days. His mentors are his family, especially big brother and coach Alex. His current goals are to get into better shape and to win the silver gloves tournament. His words of advice for kids wanting to try boxing is that it is a very lonely sport and one of the hardest sports out there. The importance of a good support system around you is key. He says it isn't for everyone and that you really have to enjoy hitting people.
Jaime wants to thank his family (dad/coach Fidel, mom Marcy, and brother/coach Alex) for their effort and support that they give to him when he is training and in the ring. He also wants to tell everyone who comes to the Sanchez Brothers Boxing Gym and follows their boxing page, "Thank you, I appreciate the support."
---
By ROXIE FROMANG | Special to the Herald Times