Dear Editor:
This is in response to a letter written by a Dr. Jeff Prystupa in the last edition of the Herald Times. He does not believe in immunizations at all and calls it "injecting the disease into children." He also claims that private citizens are "forced to submit to medical care." He claims that his immune system protects him from all infectious diseases, something vaccines never do.
Jeff Prystupa, D.C., is a doctor of chiropractic medicine and might have helped a lot of patients who suffered from back pain. But why in the world does he feel called upon to make these statements about the concept of vaccinations? Did he do independent medical research or study the history of infectious diseases to make these outlandish statements? He insinuates that he has expertise in that field based on what his family doctor told him back in 1957.
Most of us, especially us older folks, know about the breakthrough in the fight against polio infections when Salk invented the oral polio vaccine and we all stood in line to get our sugar cube vaccine. Our parents were so relieved when it turned out to be a huge success and the disease was pretty much eradicated. No more children suffocating from respiratory failure and being partially paralyzed for the rest of their lives. And no more cute little five year olds dying a miserable death due to measles. Roughly 6,000 U.S. deaths per year were attributed to that disease prior to the invention of the measles vaccine.
Or my little brother Martin who died in East Germany from whooping cough, a now preventable infection due to the very effective pertussis vaccine…Mr. Prystupa, DC…this is very personal. My little brother was born and died before I was born. I never met him… A vaccine would have prevented his death. My mother grieved the loss of that little happy and smiling baby for the rest of her life. Yes, in those days, many parents had to take small caskets to the cemeteries.
What drives and motivates you to come to Rio Blanco County and join the Board of Public Health and then publish a completely misleading letter in our newspaper. What is your intention? Will you be proud to have convinced and misled people to abandon the public health concept and not vaccinate their children? Will you have any scruples when one of our local unvaccinated babies dies from a preventable disease and the parents trusted your expert opinion on vaccinations?
Our residents do not want or need misleading and false information leading potentially to ill health and suffering and worse, to death. Please ask for accurate information, based on true science and true data. We have a proud history of a Rio Blanco County Public Health Service. Their nurses in Meeker and Rangely having given out lots and lots of true and valuable advice and numerous children have received their vaccines from Public Health.
We have two wonderful health care facilities in this county and we are proud of them. You will get ample true and proven scientific information from their health care workers, doctors, nurse practitioners, physician assistants. They will all sit down with you and give you the facts, the numbers to support the concept of vaccinations. Or you can turn to the CDC, the American Academy of Family Physicians or the American Academy of Pediatrics for true information.
Yes, I agree with Jeff Prystupa, DC, that seeking medical care is a voluntary act, including taking vaccines. I also agree that a healthy immune system is a great way to fight infections. However, not everybody is blessed with that defense, especially the very little ones and the elderly. Not every person has those same assets. A vaccine goes a long way to give those people a fighting chance.
I am very comfortable to have taken all vaccines made available to me. I also took the COVID 19 vaccine as I continued to provide medical care to those infected by this nasty virus.
With each vaccine I take I protect my health and help my immune system to fight off infection. Further, I am not spreading the infection to another person or infecting my neighbor or customer without knowing. I am breaking the chain for the virus to spread. I would like to thank all those who have volunteered to become vaccinated and to stop the spread of diseases in your community.
I am so proud to live in a community where so many people think straight and care about others.
Albert Krueger, MD, FAAP
Family Physician
Meeker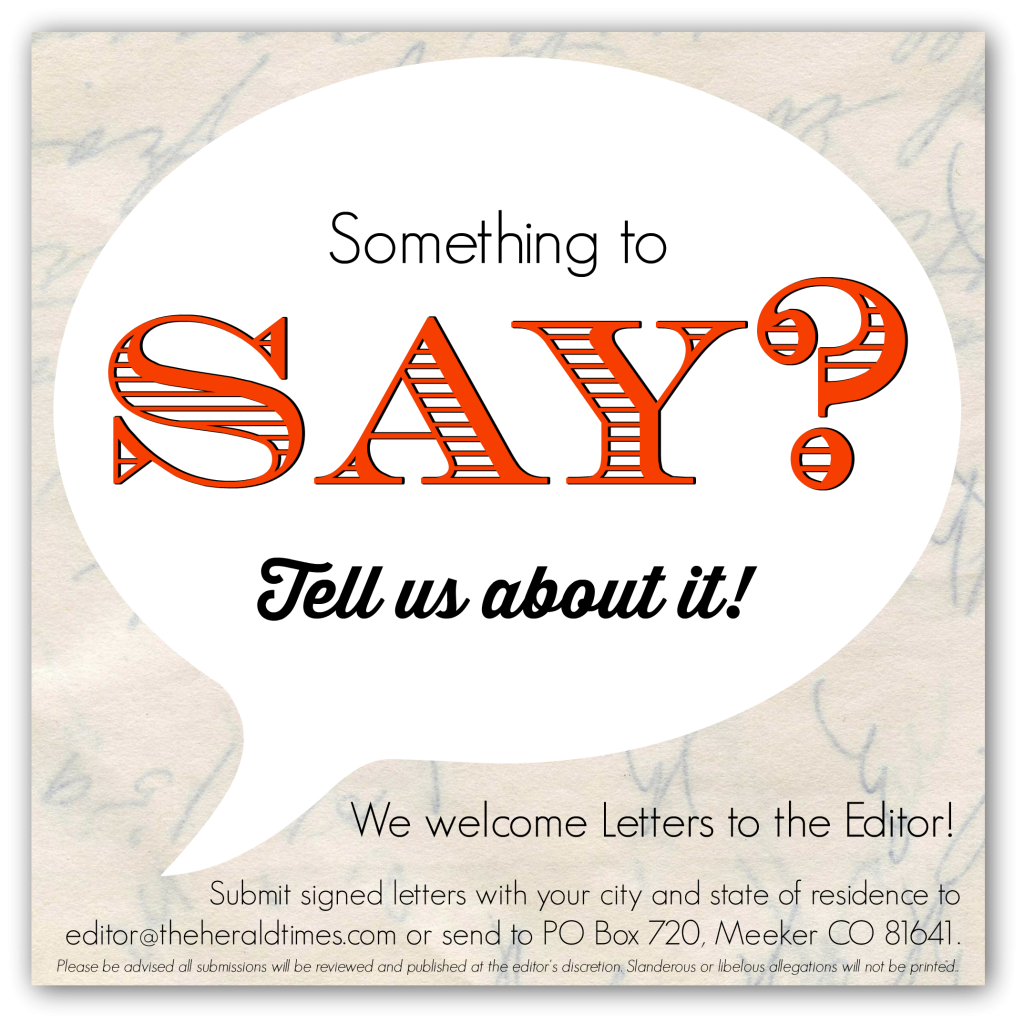 ---
Thoughts expressed on opinion pages are exclusively those of the writer and do not necessarily reflect those of the Herald Times. You are welcome to submit signed letters on matters of local interest to editor@ht1885.com, mail to PO Box 720, Meeker, CO 81641 or drop off at 304 4th St., Meeker. there is no charge.
Due to space constraints, please keep submissions 500 words or less.