Dear Editor:
I want to start by saying I've never carried a petition before now, and didn't quite know what to expect. I was surprised by the number of people who reached out to make sure they could be included in the recall. Thirty days have zoomed by and we have exceeded the required number of registered voter signatures for Commissioner Moyer's recall! That should speak volumes no matter what party you are affiliated with. After the initial flurry of signers came the door-to-door phase, which was interesting as well as concerning. For me, this was the part that truly reflected the "temperature" of the community. I began making notes of conversations and comments as I made my way from door to door. I was motivated by people's solid decisions to sign and their sincere "THANK YOU for doing this!" as I left. Thankfully, everyone I encountered was polite.
Here's what the "sample" of this effort looked like when I was done collecting signatures… 85% of the door to door contacts were in favor of the recall. I separated these people into two groups. Group One readily signed the petition, and represents half of the contacts in favor of signing. Here are a few of the printable comments that were offered: "Enough is enough"… "very unprofessional"… "lack of ethics"… "poor communication skills"… "micro managing departments"… "Napoleon like"… "employee intimidation"… "needs to be held accountable for his poor judgement"… "not trustworthy"… "tired of the Good Ole Boy Club"… "needs to remove that ridiculous cowboy hat during meetings"…"a chairman that struggles to read and can't follow an agenda efficiently—what a mess." Group Two openly stated they were supportive of the recall, BUT politely declined. These contacts were county employees, interagency folks, or those whose jobs require them to work closely with the commissioners. Most everyone in this group offered their reasons, although some were silent, or had admittedly been silenced (I was stunned to hear that). Here's some of the things this group shared: "Worried about retaliation" (sadly, this was the most common one)… "atmosphere in commissioner meetings has definitely deteriorated in the past few years"… "do not feel safe dealing with these commissioners any more"… "timing of interim county attorney Todd Starr's resignation was not a coincidence"… "bad decisions being made for departments without correct knowledge of the work"… "back door politics"… "very unprofessional during meetings"… "HR should be looked into"… "depends on who you are as to how you are treated"… "county employee morale at an all time low"… "lack of transparency"… "fabricated stories"…"loves to point his little finger in your face."
Good thing Group Two can safely voice their opinion at the polls!
Fifteen percent of the door to door contacts did not sign the petition based on: "Don't agree with the recall"… "don't do politics"… "don't know anything about this"… "need more information."
I would like to encourage people to revisit Sharon Day's letter in the March 4 edition of the Rio Blanco Herald Times. Her bullet points were clearly stated and spot on. Someone should consider putting her in charge of County Commissioner Orientation 101. And thank goodness we have a newspaper editor that has kept on top of public meetings for us as well as calling it like she sees it… especially the laws and ethics of public meetings. She's not the enemy and would be a great resource for anyone interested in learning the correct process. Fun fact: by law, the "other two commissioners" are protected from recall within six months of being elected or reelected (mentioned because it keeps coming up in editorials).
In wrapping up, I attended a budget hearing late last fall (a disappointment) and have listened to the recorded commissioner meetings from the past nine months. My recall efforts provided an important opportunity to visit with the local population at random. Through this all, I see an unhealthy pattern. Let's be very clear that this recall is not just about one person or incident. This is about intimidation and bad behavior being used in place of knowledge and good leadership. I suppose one could say the abuse of power started with Mr. Moyer's first meeting as commissioner in January 2019. I seem to remember lots of behind the scenes decisions made about Kent Borchard. And now there are quite a few more employees, and their families, left laying in this seemingly relentless path. It is conceivable that this kind of environment could have a long term effect on Rio Blanco County and the ability to attract valuable people for critical positions. A quick example, it would be a shame to leave zillions of dollars worth of broadband at risk for lack of professional personnel with knowledge and experience. Not to mention the ever changing world of IT which is a totally separate arena!
Good leaders simply surround themselves with smart people and know how to utilize employees to their strengths.
Respectfully,
Toby Leavitt
Meeker
P.S. Good contribution, Jeff Madison … your Wolf Resolution turned some heads. This is the kind of stuff the commissioners should be working on (and alongside neighboring commissioners facing this same issue.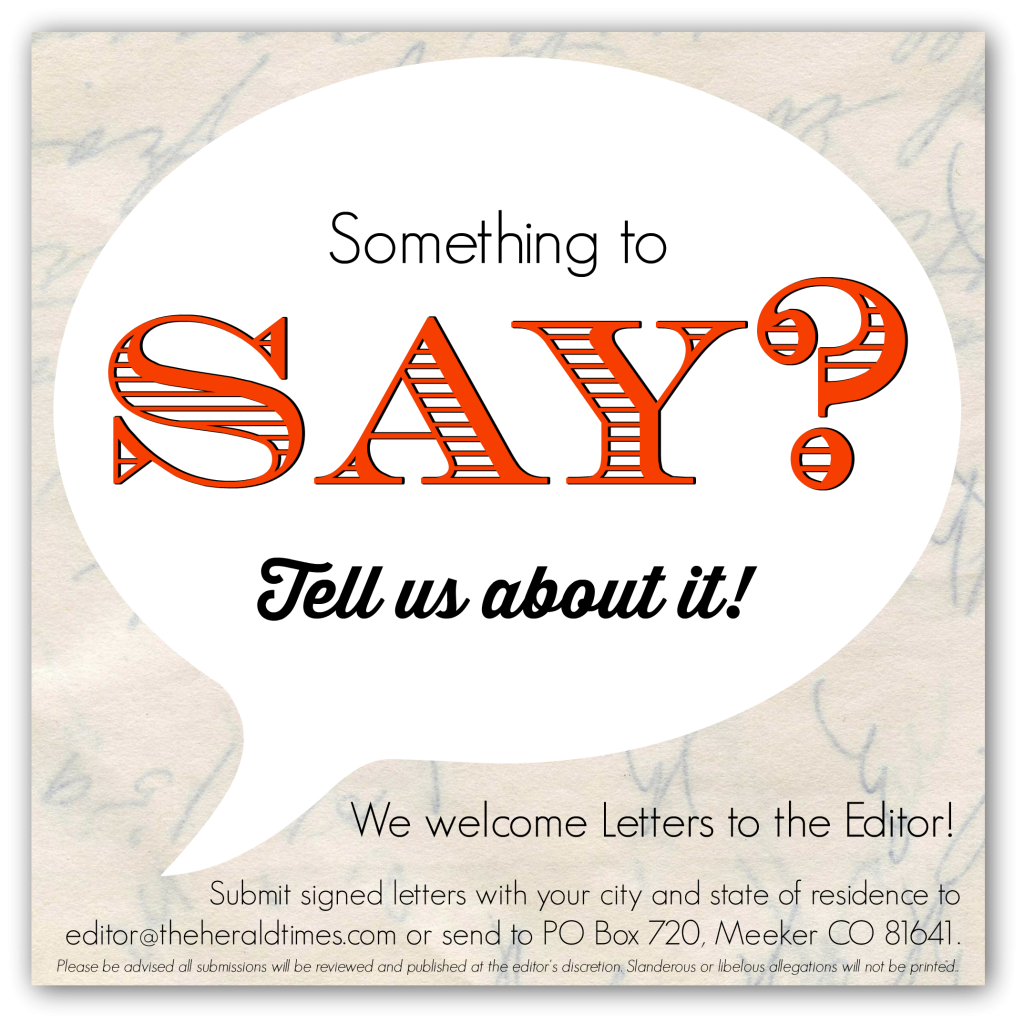 ---
Thoughts expressed on opinion pages are exclusively those of the writer and do not necessarily reflect those of the Herald Times. You are welcome to submit signed letters on matters of local interest to editor@ht1885.com, mail to PO Box 720, Meeker, CO 81641 or drop off at 304 4th St., Meeker. there is no charge.
Due to space constraints, please keep submissions 500 words or less.