Dear Editor:
Hello Meeker, through your generous donations, the Meeker International Ecology Program is heading to the Galapagos Islands, finally! When you read this, we will already be thoroughly engaged in learning on the Islands. Our first stop will be the Santa Cruz Highlands where we will become more familiar with research methodology by gathering data on giant tortoises while camping out in the wilds of the Pajaro Brujo Reserve. Our understanding of ecological processes will be challenged while assisting park rangers with invasive species control and the removal of the invading Giant African Snails. Escargot anyone?!
We will then head to Puerto Ayora to learn about marine life, practice our snorkeling skills, and investigate sea turtles and nesting birds. Microplastics research and green sea turtle nest protection will also be an important part of the program. This will be followed by a cultural exchange with local high school students who are also active in conservation on their Islands. Becoming friends with Galapagos locals might actually end up being one of the most rewarding days of the program.
Our next experience will be an exciting time at the Charles Darwin research station where we will learn about their tortoise breeding program. Isabela Island will be our last stop. Endemic species such as Darwin's finches can be found there along with penguins and iguanas. We will be doing comparative studies on divergent evolution and speciation during this portion of our trip. The hope is to see some white tipped sharks while snorkeling at the Tintoreras Islets and keeping an eye out for nesting blue footed boobies and the Galapagos Penguin! Strolling along 'Love Beach' that evening should be interesting as iguanas often frequent the area looking for a mate.
Walking through mangrove forests and snorkeling with playful sea lions is not the normal day to day activity of a typical Meeker teenager. This is a life-changing trip for six Meeker kids, and the two chaperones as well! Two other U.S. students will also be with us. We will return home after 10 days without any outside contact with the rest of the world. The students will not have access to their cell phones the entire time, allowing them to be fully immersed in the experience.
This trip would not be possible without the generous donations from so many of you. Thank you so much! Upon our return, we will plan to share our experiences with the community through a presentation that will be open to anyone that would like to hear about our trip. Please plan to put that on your calendars in the near future.
Again, we are so grateful for all of our generous benefactors and we will see you when we return to our beautiful White River valley with renewed appreciation for what it offers to our lives every single day.
Sincerely,
Ann Franklin, Ron Spencer, Jose Garcia, Hadley Franklin, Alana Nielsen, Aspen Merrifield, Gabriel Richardson, and John Hampton Hightower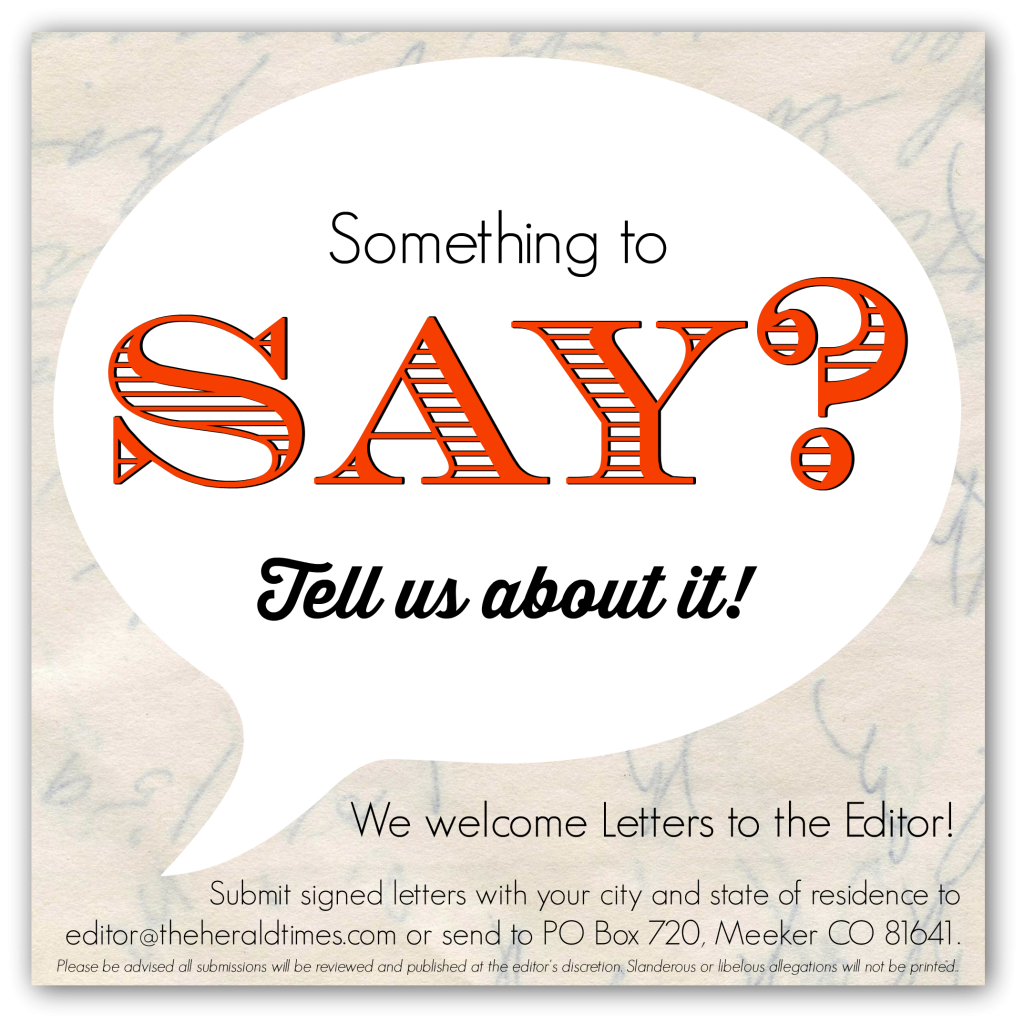 Thoughts expressed on opinion pages are exclusively those of the writer and do not necessarily reflect those of the Herald Times. You are welcome to submit signed letters on matters of local interest to editor@ht1885.com, mail to PO Box 720, Meeker, CO 81641 or drop off at 304 4th St., Meeker. there is no charge.
Due to space constraints, please keep submissions 500 words or less.