Dear Editor:
It took the whole Rio Blanco County community to make the third annual Meeker Mustang Makeover event such a big success and continue the progress of building this into a new destination attraction for Rio Blanco County!
Big thanks to our presenting sponsors: White River Electric Association, Basin Electric and Tri-State and the Town of Meeker. Gold Sponsors: The Bank of the San Juans, Utah Oil and Gas, Westlands LLC, Rio Blanco Lodging Board, Rio Blanco County, Cimarron Communications, Rio Blanco Herald Times and Level Head Audio, Rio Blanco Historical Society and the White River Office of the Bureau of Land Management. Silver sponsors included Ducey's Electric, Meeker Lions Club, Rob and Melani Walton Foundation, 4M Ranch, Global Investments, Ranch and Resort Realty, Mantle Ranch, Columbine Ford, Steamboat Veterinary Hospital/Mike Gotchey DVM, Curicyn, Meeker General Mercantile, Identity Graphics/Heidi Richards, Mountain West Insurance, / EV Ranch. Bronze Sponsors: Tammie and Brock Sanders, Pistol River Leather, Wendll's, Kim Ekstrom Photography, White River Inn and Friends of the Piceance Mustangs.
The Meeker Lions Club stepped up big time to provide outstanding and delicious food and beverage service at the Western Themed party both the night before, and the day of the event, with the highlights being the tasty Navajo taco and the sold-out mustang margarita (pineapple juice was the secret ingredient!)
Steve Mantle of Mantle Ranch, Wyoming, was the sponsor of the Yearling In-Hand Champion buckle and Steamboat Veterinary Hospital sponsored the runner up buckle; Friends of the Piceance Mustangs sponsored the 3yr Old Under Saddle Champion with Mantle Ranch sponsoring the runner up. Buckles for the 60 and Over Horse Lover Yearling In-Hand were sponsored by Bear Track Basin LLC and Robyn Blackwood. The Best Turnout award was sponsored by Dr. Mike Gotchey. Curicyn provided award baskets brimming with horse health care products as well as goodie bags for our volunteers. Mike Brennan of Pistol River Leather contributed his handmade "Champion" bridle to the grand prize winner, local Wade Allred of Rangely, Colorado.
Huge thanks to our judges, Steve Mantle of Mantle Ranch, Wheatland Wyoming; Bridget Strang of Strang Ranch, Carbondale, Colorado, and Wayne Tachera, Assistant Facility Manager of BLM Wild Horses, Canon City, Colorado. Thanks to Boyd Richardson, Rio Blanco County Fairgrounds Manager for providing the accommodations for our horses and exhibitors and spectators.
Thanks to all our vendors; our star rodeo announcer, Branden Edwards, his assistants, Diane Shipley and Jo Oatman.
The live stream video provided by Level Head Audio and Cimarron Communications, supported by the Rio Blanco Herald Times who also produced and printed our awesome Auction Brochure highlighting this year's terrific trainers and horses, enabled a national audience to tune in from their homes to join in the fun.
It wouldn't have been possible without each of our 20 trainers and their families. These trainers jumped in with both feet, training these wild untouched horses for 120 days, and pulled their entire families with them to give each of these horses a chance at a better life. They came from all over Colorado and gave it their all. And of course, our buyers were critical. Buyers came from all across the state and locally in Meeker and Rangely to give these horses a new home with their foundational 120 days of training.
Our dedicated horse loving volunteers turned out from Meeker, to Rifle, to Steamboat to Carbondale and beyond. A thank you to each of you for spending your day selling tickets, helping trainers, and moving obstacles, hanging banners and much, much more.
The community turned out to volunteer at the tables, shop at the many vendor booths this year, and cheer on and support the trainers, young and old, as they showed the distance their horses had come from untouched by human hands to ready for their new homes.
The result was an almost doubling of the high sale price of our horses, benefiting the trainer's hard work and giving our all-volunteer effort a start for next year, and most importantly giving these horses a chance at a healthy safe productive life, while educating the public about the West's iconic wild horse, the Mustang.
We thank each and every one of you, and hope you'll join us again next year for another wild and exciting Meeker Mustang Makeover! See you next year!
Meeker Mustang Makeover Board
Deirdre Macnab, President; Robyn Blackwood, Vice President; Melissa Kindall, Secretary/BLM liaison; JH Sheridan, Treasurer; Steve Mantle, Mustang Advisor; Mike Gotchey, DVM, Veterinary Advisor; Jane Turnburke and John Rodgers; Elizabeth Pearce; Kelli Henry; and Tonya Merz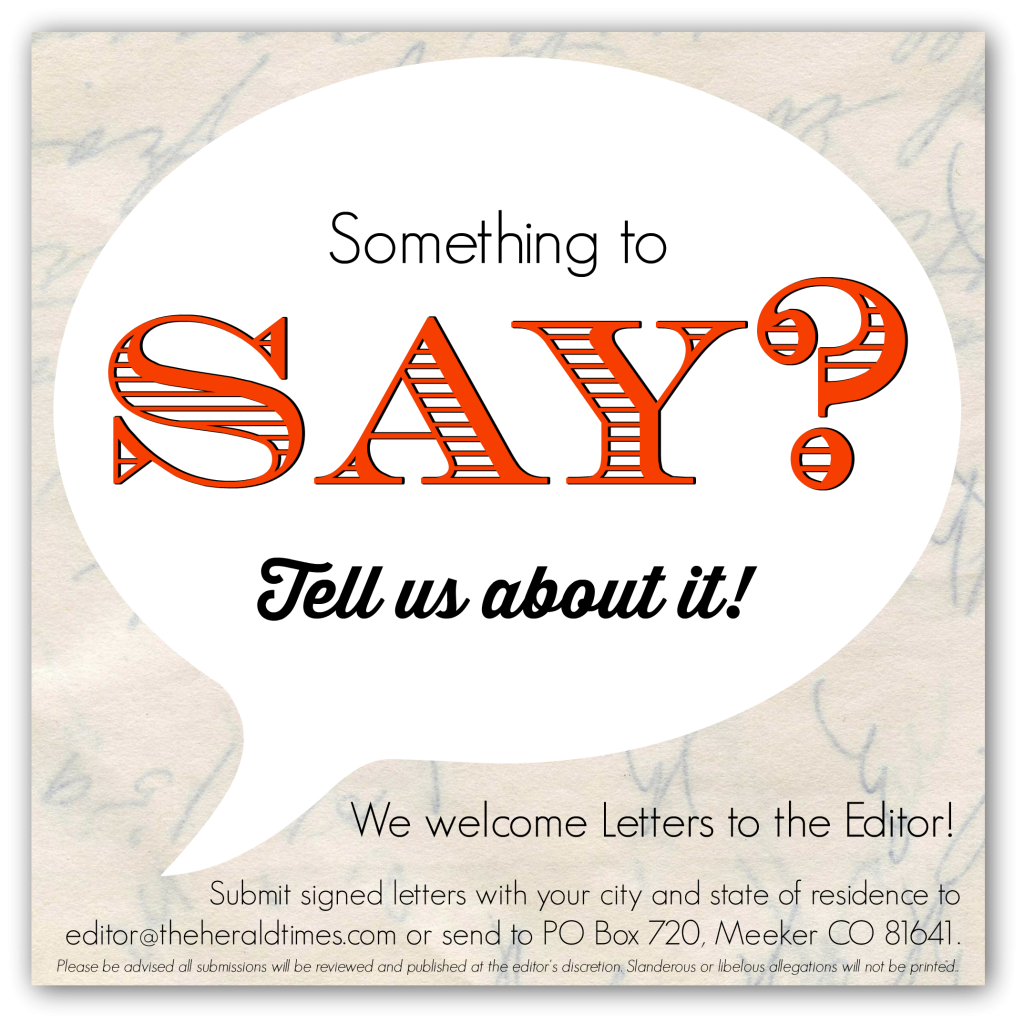 ---
Thoughts expressed on opinion pages are exclusively those of the writer and do not necessarily reflect those of the Herald Times. You are welcome to submit signed letters on matters of local interest to editor@ht1885.com, mail to PO Box 720, Meeker, CO 81641 or drop off at 304 4th St., Meeker. there is no charge.
Due to space constraints, please keep submissions 500 words or less.