Dear Editor:
Last week a hearing officer disallowed the petitions in the Gary Moyer recall effort. The decision was based on technical issues, not on substance. These were items even the Colorado Secretary of State's attorneys didn't know, and included: circulators should have name tags, the petitions were supposed be numbered, and a "printer's proof" wasn't submitted. The substantive claims were upheld and the factual reasons for the recall were ruled valid.
This leaves the recall committee with a decision, give up or try again. We stopped at 879 signatures in 38 days instead of going the full 60 days, which I think makes a statement. These signers have stuck their necks out, risking retaliation, and are counting on us to make this recall happen. Speaking of retaliation, there have been reports of many signers being called and harassed for signing, then being hung up on. I even have friends that were too scared to sign due to fear of retaliation, which I respect, but isn't this America? What happened to respecting the people's right to choose?
The recall committee has decided this effort is too important to the county to let it drop. We will move forward with the recall. We owe this to the voters and county employees. We will collect signatures again. You can be assured we plan on meeting all requirements.
I want to reiterate that this is not just about Dave Morlan and Gary Moyer. This is about our ever-growing number of county department heads and employees being harassed and mistreated, it's about the destruction of longstanding relationships with other agencies, it's about a lack of transparency and it is about creating a toxic atmosphere in the county. Gary Moyer does not represent us! I just happen be the person to stand up and help get the process going after watching this nightmare from the inside for two years. So, we will be coming around to get the same signatures in the next few weeks. We know we missed a lot of people that would have liked to sign before and will have an opportunity now. Please stop in at Wendll's or Crystal Meadow Farms in Meeker or you can give me a call at 970-942-8093 or Terry Smalec in Rangely at 970-675-2355.
Let's get this process done so we can move on to all of the bigger issues facing Rio Blanco County.
Thank you,
For the Moyer Recall Committee
Dave Morlan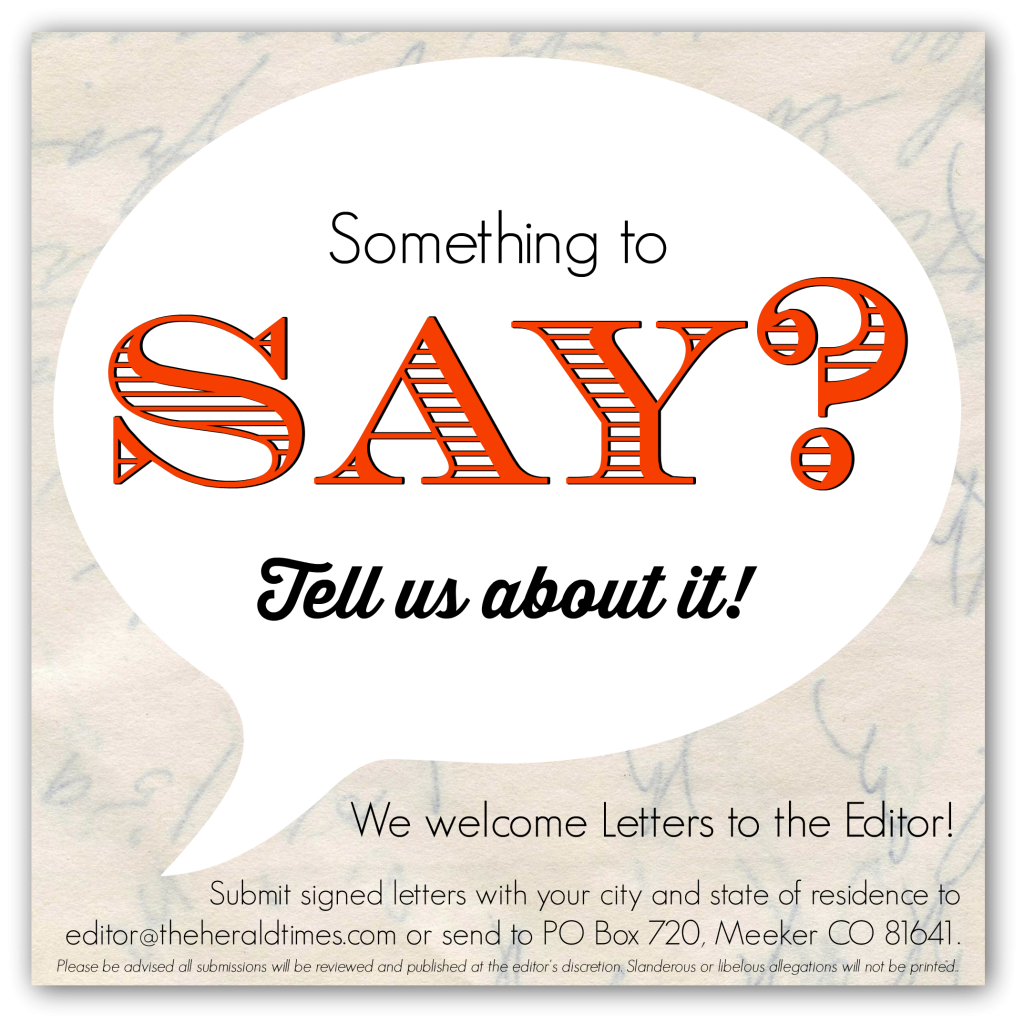 ---
Thoughts expressed on opinion pages are exclusively those of the writer and do not necessarily reflect those of the Herald Times. You are welcome to submit signed letters on matters of local interest to editor@ht1885.com, mail to PO Box 720, Meeker, CO 81641 or drop off at 304 4th St., Meeker. there is no charge.
Due to space constraints, please keep submissions 500 words or less.