Dear Editor:
I am writing this letter both in support of Doug Overton for RBC Commissioner as well as to address unfounded concerns regarding Mr. Overton's relationship with Gary Moyer.
Are Doug and Gary friends? Yes, they are. Do they agree on every issue? Let me ask you this. Do you agree with your friends on everything or are you capable of agreeing to disagree, making your own decisions. Doug and Gary have had their fair share of disagreements, and at times it affects their friendship, but does that mean one should write the other off? Do they react to every situation in the same manner? No they do not. They are both strong individuals with very different styles and ideas.
Doug is very capable of making good decisions based on various sources of information. He is not someone who is easily influenced by anyone.
I have known Doug my entire life. We grew up in the same church and our parents were the best of friends. Doug and I also were volunteers on the Meeker Ambulance Service for many years where we worked closely and always with the best interest of the community in mind. Doug served as Fire Chief for a number of years on the Meeker Fire Department as well as serving on the Board of the Fire Protection District.
I served with Doug as a Fire Board Member for eight years. I found Doug to be one of the best numbers person I've ever known. Many people describe Doug as the voice of reason, which I definitely know to be true. I have never known Doug to make a knee jerk decision. He always has the patience and fortitude to glean all the necessary information before making an informed decision.
Doug is solid in every aspect of his life, from his family, to his business as well as his community.
When Doug left home after graduating high school in 1973, he had $20 in his pocket. Doug is now a very successful business man as well as being responsible for the management of multiple employees. The experience he has in business and employee management will be a great asset for the people of this county. Where he and his family are today, is definitely a reflection of a lifetime of good business and financial decisions.
Doug has the background, knowledge and dedication to do the best job for Rio Blanco County.
Please vote for Doug Overton for RBC Commissioner
Respectfully,
Sherri Halandras
Meeker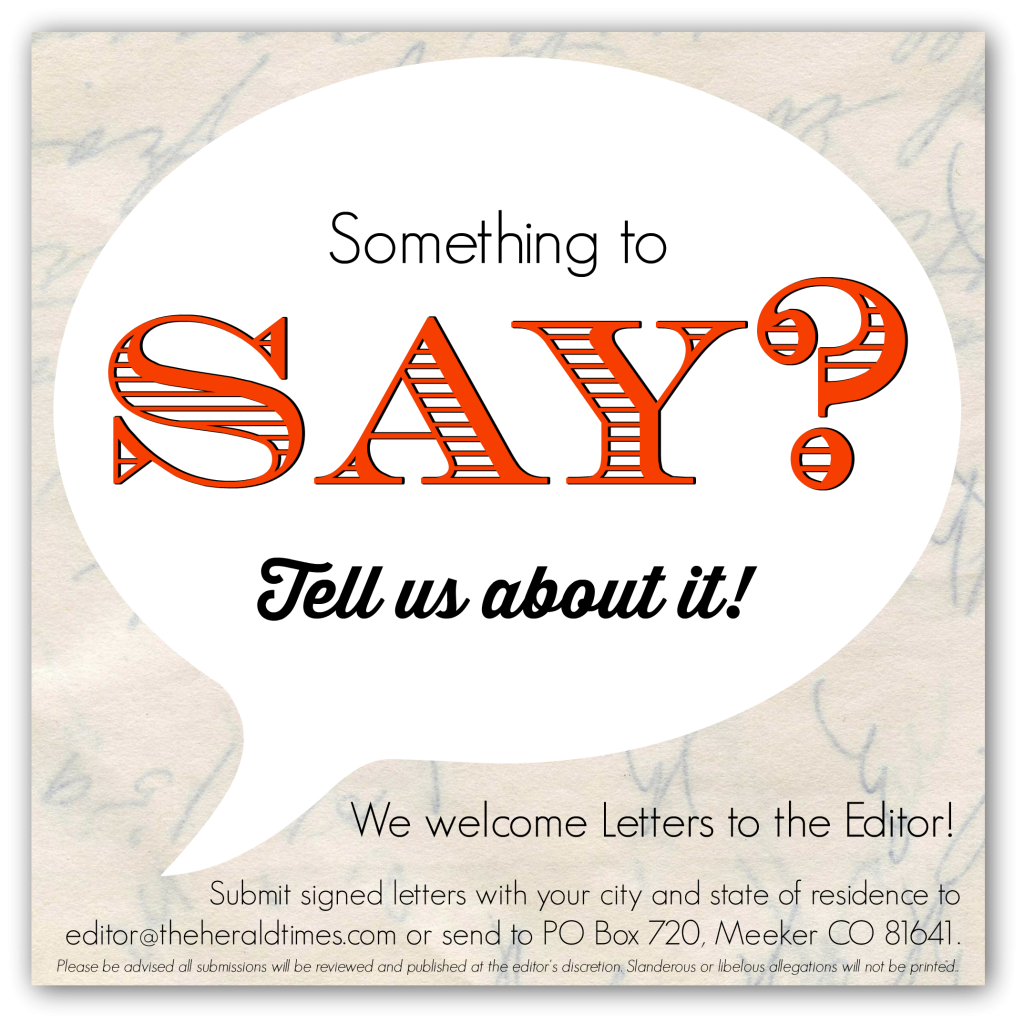 ---
Thoughts expressed on opinion pages are exclusively those of the writer and do not necessarily reflect those of the Herald Times. You are welcome to submit signed letters on matters of local interest to editor@ht1885.com, mail to PO Box 720, Meeker, CO 81641 or drop off at 304 4th St., Meeker. there is no charge.
Due to space constraints, please keep submissions 500 words or less.