Gerloff family thanks
Dear Editor:
The Delton Gerloff family would like to say a big thank you to Dr. Travis Anderson, PA Starla Pelloni and all the nursing staff at Pioneers Medical Center for taking such good care of our beloved guy (Opa).
Thanks going out to everyone who brought meals and food trays, sent beautiful encouraging cards to us, all the phone calls not only from Meeker but from Wyoming, Idaho, Washington, Tennessee and Texas.
A big thanks for the donations to the Meeker Volunteer Fire Department. Also, thank you to Luke Pelloni, Vaughn Moody and Steve Allen for taking our loved on to his final resting place in his favorite "fire truck."
Special thanks to Pastor Todd Belamy of Assembly of God Church and Rev. Michelle Roberts from Cañon City, Colorado, a very dear friend.
Thank you so much for the love and prayers,
Julia Gerloff, Rodney and Suzanne Gerloff and family, Todd and Leigh Gerloff and family
Meeker
---
Thanks from MHS art and woodshop students
Dear Editor:
The Meeker High School art and woodshop students would like to thank Suzan Pelloni, Bailey Waldref and John Strate at Streamline Realty for letting us use their beautiful space to exhibit our spring art show. We would also like to thank our judge, Laurel Haney, for her time and expertise. We appreciate the Rio Blanco Herald Times for your coverage and advocacy for our show. We really appreciate all of your support!
Sincerely,
Art Instructor Ben Quinn, Industrial Arts Instructor Zach Clatterbaugh and the MHS students
---
Thanks for support in election
Dear Editor:
I would like to sincerely thank the citizens of the Eastern Rio Blanco County Health Service District who supported me in the recent election to the Board of Directors. The generous support is greatly appreciated. I pledge to do my best for the district and look forward to working with citizens, fellow directors, and district personnel.
Thanks again,
J. H. Sheridan
Meeker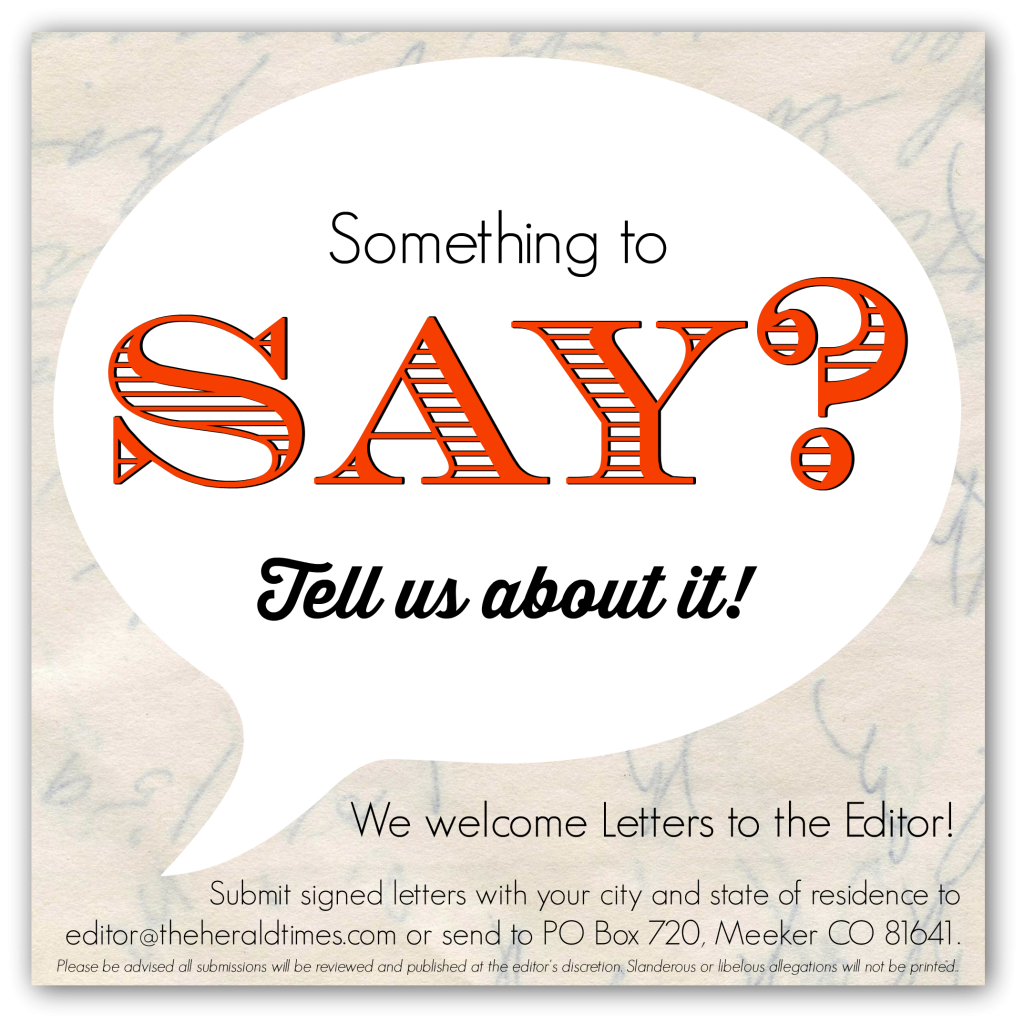 ---
Thoughts expressed on opinion pages are exclusively those of the writer and do not necessarily reflect those of the Herald Times. You are welcome to submit signed letters on matters of local interest to editor@ht1885.com, mail to PO Box 720, Meeker, CO 81641 or drop off at 304 4th St., Meeker. there is no charge.
Due to space constraints, please keep submissions 500 words or less.