Compelled to respond
Dear Editor:
I have read through Boots Campbell's May 13, 2021 letter to the editor several times and have come to the same conclusion every time. It is clear Ms. Campbell is having difficulties accepting the hearing officer's ruling in the Moyer recall case. She referenced four Colorado Revised Statutes she was not aware of and was guided solely by Election Law in Title 1, Article12, Recall and Vacancies in Office. My question is, "Why didn't she know about them?" As Rio Blanco County Clerk and Recorder, wouldn't she research and understand the Colorado Revised Statutes in ordered to carry out her duties in a clear and concise manner regarding the recall process.
Ms. Campbell felt, "the playing field" was uneven as the BOCC's attorney Todd Starr and Mr. Moyer's attorney were against the Clerk and Recorder's office. Could this be because of the errors discovered during the recall hearing? The last sentence in her letter Ms. Campbell writes, "Lesson learned and it won't happen again." I was please to read Ms. Campbell has made a positive commitment to research the Colorado Revised Statutes going forward.
I was astonished when I read Dave Morlan's letter to the editor last week. After he clearly lost his bid to recall Gary Moyer as county commissioner, he's going to attempt to recall him a second time? Really? Dave Morlan, you lost in a court of law, regardless of why! It bears to remember, you admitted under oath to knowing the petition contain a false statement; one county commissioner cannot solely fire an employee. I am surprised your attorney didn't bring this to your attention.
People sign petitions for a variety of reasons. Many times they sign without researching both sides of the story, they sign because of a personal relationship to the circulator or they sign because of their own grievance. Whatever the reason, there is always a risk. Before signing petitions, it is important to research the validity of the petition statement.
Regardless of the number of reasons Dave Morlan gave for initiating the recall of Gary Moyer, I believe a second recall will be based on contention Dave Morlan holds against Gary Moyer. Mr. Morlan's inability to accept the hearing officer's ruling supports my belief. His statement, "Gary Moyer does not represent us" is not true. All county commissioners represent us, the citizens of Rio Blanco County. I, for one, do not believe the remarks Mr. Morlan made regarding county department heads, employees and relationship with other agencies. I think that is a very broad statement that does not represent a majority within the county. Mr. Morlan is a former employee who refuses to sign a waiver so that both sides have an opportunity to present the facts to the public. Wonder why that is?
To initiate a second recall contradicts Mr. Morlan's statement that we need to focus on the bigger issues facing Rio Blanco County. Another recall is a waste of county resources and creates unnecessary strife within our communities.
Thank you,
Mona Avey
Citizen
Goodbye from Pastor Petty
Dear Editor:
In The United Methodist Church, pastors are appointed to a parish for a time. The parish is not a building or even a congregation, but an entire community. Effective July 1, 2021, Bishop Karen Oliveto has appointed me to serve St. Paul's UMC in Colorado Springs. Last week, I said goodbye to the congregation in Meeker but my "goodbye" goes beyond the walls of the local church and to the entire community.
What can I even begin to say? It's been almost five years since I first stepped foot in Meeker and called this place my home. Many of you have welcomed my family as we transitioned from visitors to residents of this community. Amberly and I have enjoyed serving through our work with many different organizations: Meeker UMC, 4-H, Girl Scouts, Rio Blanco County, CASA, Little League, the Historical Society, MACC and more.
Our entire community has endured grief, loss, pain, hard work, and a global pandemic that turned everything we knew on its head. Yet, through it all, we have loved the Lord and loved one another, the greatest of Christ's commandments.
I want to say a special thank you for the entire community for supporting me throughout my ministry. When I arrived, I was new to ministry and still working through my seminary education. You helped me and gave me grace for two years while I finished my MDiv at the Iliff School of Theology. I went from serving as a licensed local pastor to a fully ordained elder of The United Methodist Church. This was only possible with support from the local church and the entire community.
I am grateful for how you have accepted me, and I ask for forgiveness for my shortcomings. There have been times I have led well and times I have failed to lead well. We have learned and grown as we have laughed and cried together.
Together, we have rebuilt homes in Puerto Rico, gathered leaves from lawns, worshiped at the Wing, jumped on trampolines, stayed up all night at youth lock-ins, studied scripture, worked through book studies, celebrated 125 years of church history, renovated children's ministry areas, carpeted thousands of square feet, sang VBS songs with hundreds of children, baptized babies, confirmed kids, celebrated marriages, and said goodbye after the passing of many good friends.
It has been a blessing to lead the church through these many seasons and I am privileged to pass the mantle into such capable hands as I prepare for the next season of my ministry. As you prepare for this next chapter, remember this: The world desperately needs to hear the life-changing message of the gospel of Jesus Christ. Proclaim this gospel in your words, deeds, and actions. Share the good news with those you meet in every place you go. If you do this, you will change the world one life at a time.
From now on, I will no longer call you parishioners as Meeker is no longer the parish to which I am assigned but I will always consider you my friends.
So go forth, good friends, and change the world.
Rev. David Petty
Meeker
Harassment of petition signers should be reported
Dear Editor:
During the previous Gary Moyer Recall signature drive, the committee heard reports of people being called and harassed about signing. If anyone is called or confronted in public this time after signing, and they feel that they are being harassed, I recommend that they report this to their local law enforcement agency immediately.
Many people were told, by Gary Moyer supporters, that they should not or could not sign the petition because they held certain political positions or were employed by government agencies. I can assure you that every citizen, no matter which positions they hold or where they are employed, and who is a registered voter in Rio Blanco County, has a right to sign the Gary Moyer Recall petition without fear of retaliation.
Only because of a few minor technicalities, we have to start the Gary Moyer Recall again because we want our county to be represented by elected officials who have integrity, honesty, transparency and sound leadership that serves all citizens of Rio Blanco County.
I had hoped that Gary Moyer would have been humbled when close to 900 people signed the first petition in 38 days. Please sign the new recall petition so we can move forward. The citizens of Rio Blanco County deserve better than the representation they have now.
Terry Smalec
Rangely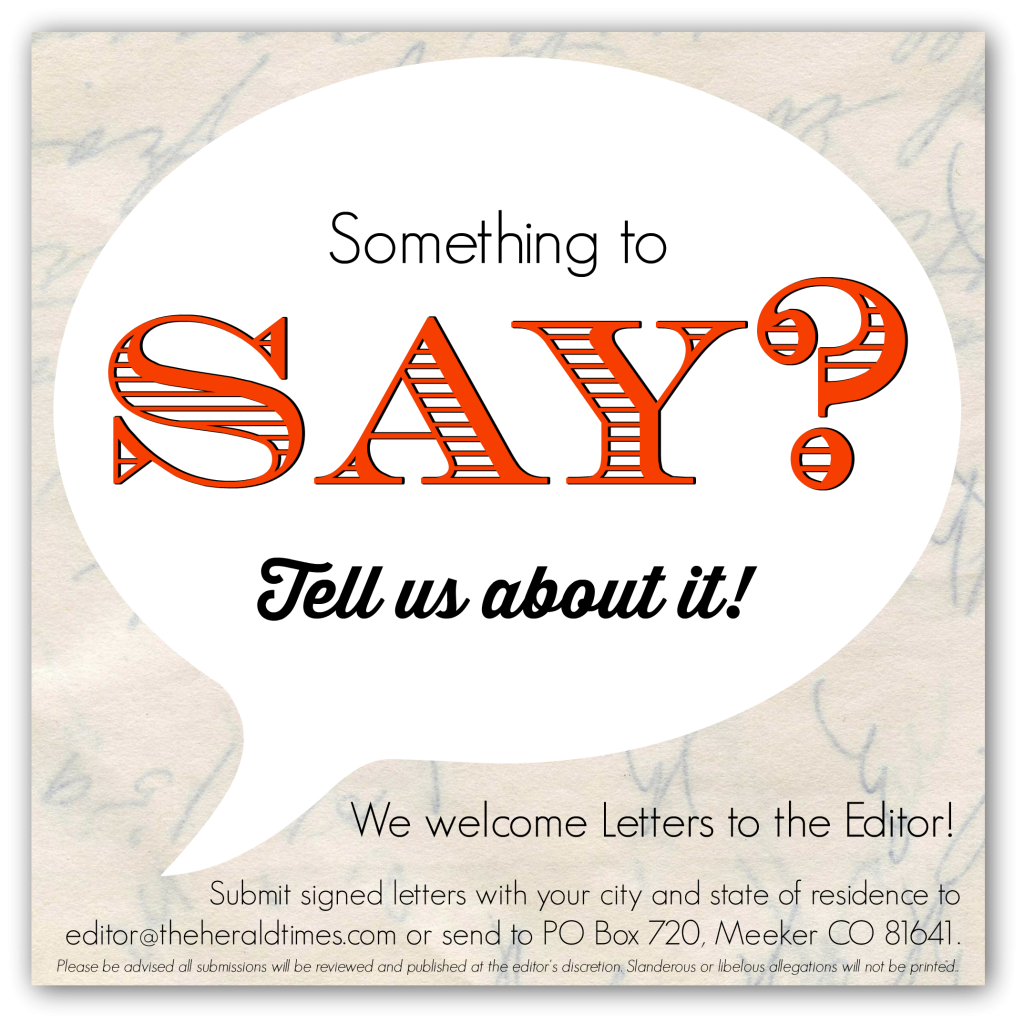 ---
Thoughts expressed on opinion pages are exclusively those of the writer and do not necessarily reflect those of the Herald Times. You are welcome to submit signed letters on matters of local interest to editor@ht1885.com, mail to PO Box 720, Meeker, CO 81641 or drop off at 304 4th St., Meeker. there is no charge.
Due to space constraints, please keep submissions 500 words or less.