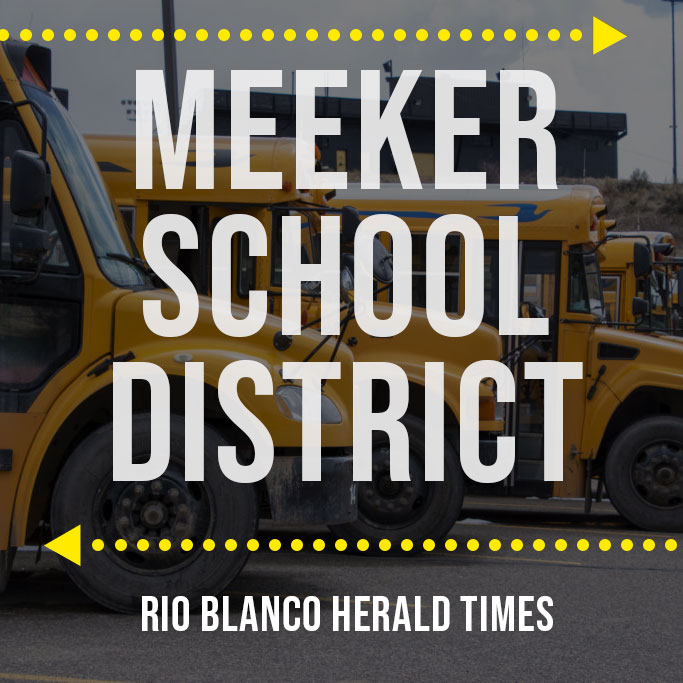 MEEKER | The Meeker School District Board of Education met Monday, Dec. 14 to take care of a variety of business items. First up was the approval of new hire Claudia Mosher as Barone Middle School's paraprofessional interventionist, followed by an informative presentation from Torrie Gerloff, who interned at MHS for 15 weeks. Gerloff taught business English and assisted with US literature and college composition courses under the direction of Kathleen Kelley.
"I think what I took away the most from having Mrs. Kelley be my mentor teacher is that building relationships is key to teaching," Gerloff said.
Next, the board heard an update from John Usery of NV5 regarding high school construction. The high school and bus barn have officially received Certificates of Occupancy. Extra funds will be utilized for some additional improvements, including safety upgrades at the middle school and stadium bathroom renovations. The base scope of work should be finished sometime next month. Additional improvements are slated through the spring of 2021.
A ribbon cutting ceremony originally scheduled for this month has been postponed.
Superintendent Chris Selle updated the board on COVID cases within the district, stating there has been "a pretty significant improvement; we had a lot of folks out on quarantine or isolation orders a few weeks ago." As of press time, Rio Blanco County Public Health is currently reporting one case in the district.
In other pandemic-related news, Selle informed the board the Town of Meeker donated an additional $28,000 in COVID relief funds to the district. They were used to purchase additional Chromebooks for second and fourth graders.
Selle also touched on a movement by rural school superintendents to, "provide extracurricular activities for students outside of what CHSAA (Colorado High School Activities Association) is doing. There's some school of thought that we can't depend on CHSAA to follow through and represent rural school districts." Selle stated he was unsure if the effort would gain any traction. "Kids are going to be safer in our gym or in our wrestling room than they are running around town. We have precautions in place," Selle said, but added, "we certainly don't want to jeopardize anything we could engage in with CHSAA, but there's a pretty deep-seated frustration with CHSAA or CDPHE or whoever regulates those decisions."
Selle added that locally, the Rio Blanco County Department of Public Health and Environment has been "very forward-thinking" with regard to keeping kids in school and supporting extracurricular activities. He also highlighted a collective community effort to reduce transmission of the virus. "We haven't had to have any large-scale quarantines. Our parents have done a really good job of keeping kids home when they've been symptomatic or had an exposure. Our community has done a really good job."
The board discussed updated instructional plans for COVID-19, which reiterated the district's desire to keep kids in school. "In short, we have learned that schools are among the safest places for students with regard to COVID-19 transmission … Given these truths, the Meeker School District is planning to return to full time in-person learning starting on Jan. 4, 2021. We will remain with this instructional model unless it becomes operationally impossible for us to do so," the document states. The full document is available at https://www.meeker.k12.co.us/
The board rounded out the meeting with the discussion a letter to the editor from the board (see PAGE 4A), and a voluntary early retirement policy for staff members.
---
By CAITLIN WALKER | caitlin@theheraldtimes.com