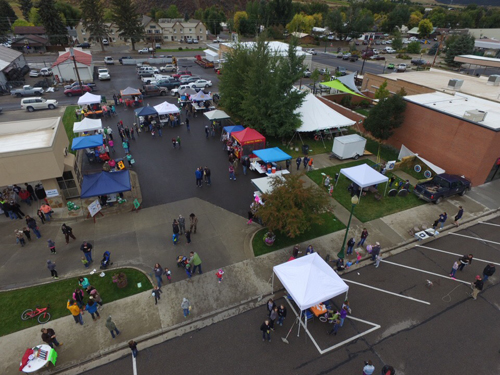 Summer Festival set for Aug. 28
MEEKER | Mountain Valley Bank's popular "fall festival" will return for the 17th year with a few changes, starting with the season. The festival has always been held the last weekend in September. The timing has put the event — which provides an opportunity for local nonprofit groups to raise funds — at odds with the unpredictability of autumn weather and in conflict with school sports schedules.
"The festival was created and aimed for youth," said Mountain Valley Bank President Tawny Halandras. Groups ranging from 4-H and FFA to the eighth grade Washington, D.C. trip have sold food, drinks, and organized games and activities to raise funds for their programs. Busy sports schedules in September have left students dependent on parent volunteers to manage festival booths. Halandras is hopeful that moving the festival date to the end of August will encourage greater participation by various nonprofits, and more open schedules for students.
The second change this year is a return to the festival's original location: the Mountain Valley Bank parking lot at Fourth and Main. When the Eastern Rio Blanco Metropolitan Recreation and Park District (ERBM) — a co-sponsor for the event along with White River Electric Association — completed renovations and upgrades at Town Park, the festival became part of the grand opening in 2017. A fast-moving, powerful thunderstorm that toppled booths and drenched attendees cut the event short that year. In 2019, the threat of storms forced organizers to relocate the festival to the 4-H building at the fairgrounds, and in 2020, of course, the festival was canceled due to COVID. Hoping for "better community participation" the festival will return to its downtown roots this year.
As always, every person who attends the Festival will receive $5 in "Bank Bucks" to spend on various food vendors and game booths. Bring a non-perishable food item for the Meeker Food Pantry to earn extra Bank Bucks. If you run out of bank bucks, cash is always welcome.
After the food and fun and prizes, vendors exchange their Bank Bucks for real money from Mountain Valley Bank to go toward their organization, project or event.
In 2019, about 700 people attended and 21 nonprofit/fundraising groups participated. $13,800 was raised for local nonprofits, $4,000 of which was Mountain Valley bank bucks.
ERBM provides the prize booth for winners of booth games and activities, reducing expenses for participating organizations. All nonprofit groups are welcome, and Halandras is looking for a "broader mix" this year of food, games and activities.
Interested parties should contact Halandras at thalandras@bankmvb.com or call 970-878-0103 to register a booth.
---
By NIKI TURNER – editor@ht1885.com