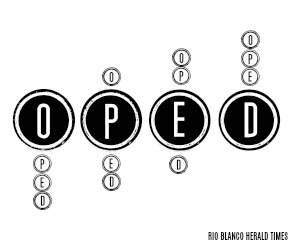 RBC | Most people have no clue how a newspaper comes together, just that it appears magically each week for their enjoyment (or ire, depending.) As the editorial designer, one of the biggest questions I get is why items get "buried" on page 10 or 11. In the office we always have a good chuckle at this, as most of our papers average 14 pages, meaning any perceived "burial" is pretty darn shallow.
Are you ready for this knowledge bomb? Here's the trade secret: things generally end up where they do because that's where they fit.
Mind-boggling, isn't it?
It will take a bit of creative thinking on your part, but imagine for a moment a newspaper is like a quality piece of shapewear. You've got all this stuff to shove in it somewhere, it looks entirely too small, and you don't really know how the heck to get everything in without damaging internal organs, but somehow, as if by magic, everything squishes … or most everything. (I always end up with a super-weird roll along the top of my shapewear, which gives me the very sexy body type of "improperly-squeezed tube of toothpaste." I may be doing this whole woman thing wrong.)
I guess this makes me the official newspaper Spanxer (honestly a way cooler title than editorial designer.) I whip the paper into shape every week, making sure all the important stuff fits. It's essentially a giant jigsaw puzzle. So please don't be offended if your piece ends up "buried." It's not intentional, we promise.
By CAITLIN WALKER | caitlin@theheraldtimes.com