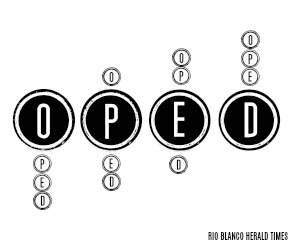 RBC | The entire Meeker Clerk's staff attended the Feb. 12 presentation given by County Attorney Todd Starr regarding the Sunshine Law. All of us found it very interesting and informative. Many other county employees and members of the public also attended the presentation. Lunch was catered by Ma Famiglia restaurant.
Several residents, along with some RBC commissioners, have recommended that in the name of transparency, I should bring forth an issue from November 2018 that needs to be made public.
On Monday, Nov. 19 a commissioner came to my office and informed me that there had had been a private investigator hired to come in and question me and my staff about what was going on in this office. I was absolutely blindsided and had no idea what this was about so I contacted the commissioners that afternoon, but received no information regarding the reason.
On Tuesday, Nov. 20 Jane Quimby of Quimby & Associates, an investigative consultant firm from Grand Junction, came to Meeker and interviewed me and my staff. A week later on Monday, Nov. 26 Ms. Quimby came back to Meeker, spoke to me and my staff and then gave her report to the commissioners. The result was that she had found no wrong-doing in this office.
Just last week I found out that there had been several accusations against me before the interviews. I was unaware of those accusations and wasn't given a chance to respond. The accusations included bullying and touching a ballot envelope during the election which the accuser called "voter fraud."
The county received an invoice from Quimby & Associates for $4,701.54.
By BOOTS CAMPBELL | RBC Clerk and Recorder