Dear Editor:
I was at the Commissioners meeting here in Meeker Dec. 14 to bring up a couple of concerns. I will be the first to admit that I do not attend meetings unless something gets my attention and I want to ask questions that hopefully will help me understand the goings on. As expected Mr. Rector reminded me, several times, that I am absent from meetings and of course I can watch on the computer if I so choose.
Sheriff Mazzola was asked to explain some of the finance issues regarding the closing of the jail, which he did politely and professionally. Mr. Overton explained some of the expenses regarding equipment purchases and also was professional and polite.
Then when Sharon Day asked to address the Commissioners on her concerns and some suggestions, she was in my opinion, verbally attacked. Mr. Rector and Mr. Moyer again and again asked why she has not been to the meetings. When Sharon tried to reply, My. Rector said "I don't care" you never come, and they continued to show their displeasure of her being there. They were abusive, unprofessional and bullied her until they truly were red in the face. Sharon showed patience and professionalism during their outbursts. The two Commissioners were so worked up they seemed to be talking at the same time. When they were done Sharon was able to bring up her questions and Janae was able to address her concerns.
They say they "encourage" public input but it seems like only if we agree with them. Why should anyone go to these meetings, my opinion is they are rude, and forget who their employer is – the taxpayer. I am sure if they were employed by a corporation or private business, they would have been fired talking to their employer with such disrespect.
OK, I have admitted I do not attend, Mr. Rector, where have you been the last several months. Aren't you paid to be at these meetings? Did I raise my voice and temper to you for not being at these meetings?
Thank you Commissioner Gates for not jumping into the bullying but would ask you to consider stopping the disrespect shown, either from the public or Commissioners, in the future.
While we're talking about expenses, why is the emergency manager allowed to use a county vehicle to go to and from his home outside of town every day? Who pays for that fuel, and is that an option for all county employees?
Also, I would like the Commissioners to consider having their meetings in the evenings for those of us who work during the day.
Carol Parr
Meeker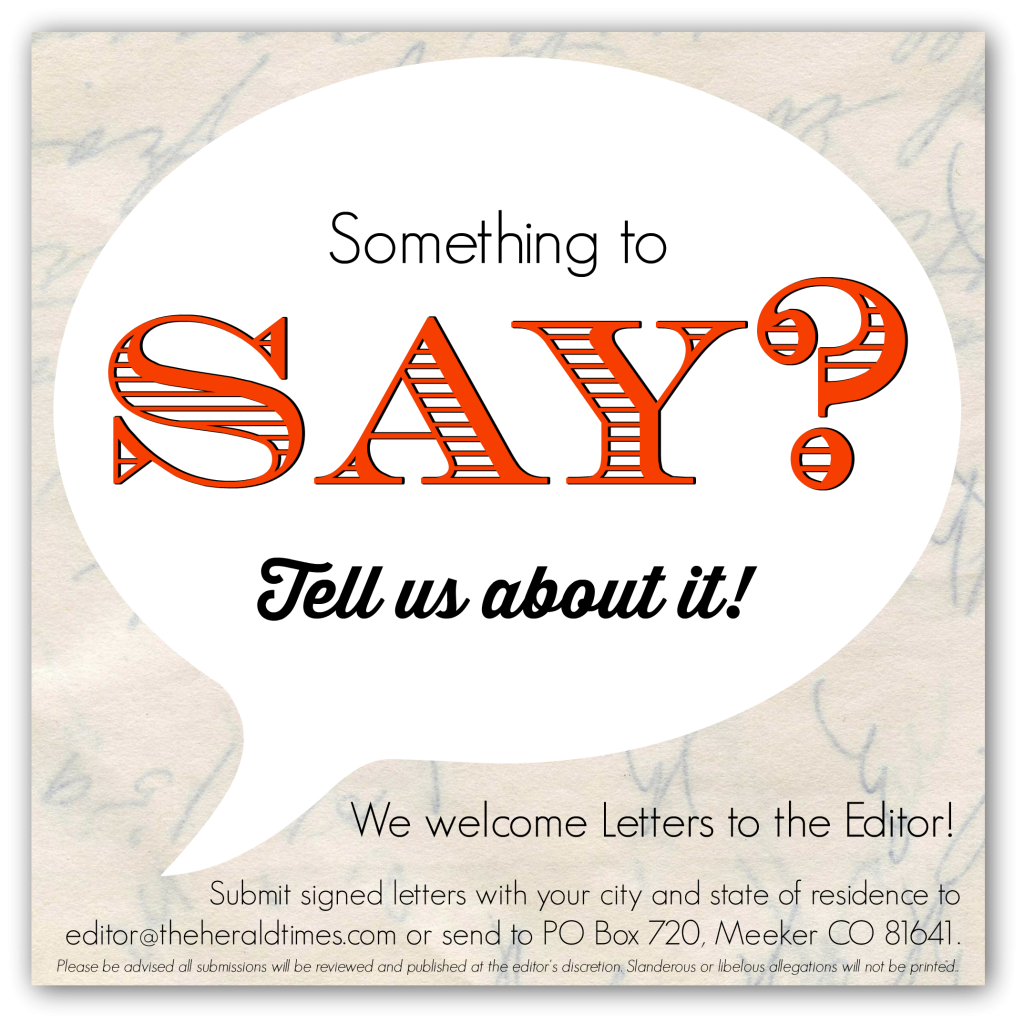 ---
Thoughts expressed on opinion pages are exclusively those of the writer and do not necessarily reflect those of the Herald Times. You are welcome to submit signed letters on matters of local interest to editor@ht1885.com, mail to PO Box 720, Meeker, CO 81641 or drop off at 304 4th St., Meeker. there is no charge.
Due to space constraints, please keep submissions 500 words or less.