Dear Editor:
As a former Rio Blanco County Republican Chair, I strongly recommend that our current county GOP officers remain neutral. Remaining officially neutral at this time is critical for the unity of and trust in our party—especially since one of the officers is closely related to Gary Moyer. Perceived interference, by the RBRC, in a lawful democratic process is divisive and damaging.
Last time I checked, the voters of this county, this state and this country have a right to recall any elected official even though they were "voted into office by a majority vote" (most of us generally assume our elected officials take office after being elected by a majority rather than a minority). Are the Republican voters of Rio Blanco County being told by our RBRC "leaders" that we have an "imperative" to blindly support any Republican in office no matter what they do?
Instead of writing letters, the officers may want to spend their time reading the mission statement in the RBRC Bylaws and concentrate on those obligations and requirements. In fact, I heartily recommend that they read every page of the bylaws so they make sure they are, and have been, in compliance with them—as well as the State GOP and the Secretary of State.
About a year before the current Morlan situation, I had been speaking with several other people who wanted to recall Gary Moyer for many reasons. So, for many of us, this is not just about Morlan. I urge voters to exercise your right to speak and vote to remove Gary Moyer from office.
I can only hope that the RBRC Officers honor and respect your voice so they don't hasten the decline of support and trust of loyal members.
Sincerely,
Terry Smalec
Former Rio Blanco County Republican Chair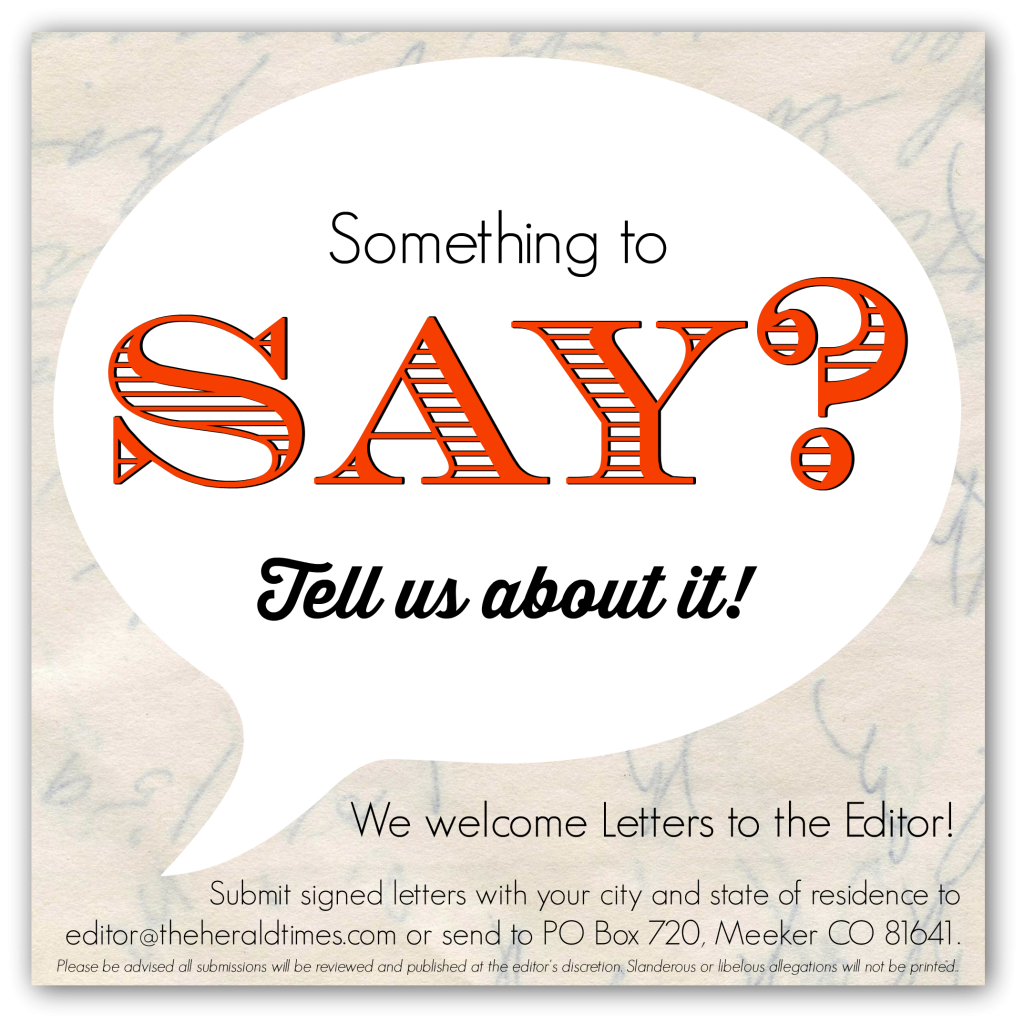 ---
Thoughts expressed on opinion pages are exclusively those of the writer and do not necessarily reflect those of the Herald Times. You are welcome to submit signed letters on matters of local interest to editor@ht1885.com, mail to PO Box 720, Meeker, CO 81641 or drop off at 304 4th St., Meeker. there is no charge.
Due to space constraints, please keep submissions 500 words or less.
Facebook Notice for EU! You need to login to view and post FB Comments!