Dear Editor:
Oh boy, I knew this was going to be hard but I didn't realize how hard! It's extremely difficult to say all this out loud for my beloved Meeker community to hear.
My mind cannot articulate the words my heart wants to share. All who know me understand I often lead by emotion, not necessarily from business sense. Therefore, I apologize in advance for running on and on.
I know this will be a shock to many and I need you to understand that this was a very difficult decision for Jan, my family and I to make. Meeker Drugs, Inc. is closing its pharmacy doors on Dec. 31. The soda fountain, Meeker Sweet Shop, will remain open and will have a new look and offerings in the next few months.
Our community and fellow small business owners understand that independent, brick and mortar business is a massive challenge; just look at how our business community has changed over the years. Add insurance companies, government healthcare programs, mail order, drug costs, policy changes, etc.
We have rolled with and witnessed the pharmacy industry change so much over the past 12 years. It has always been a challenge but due to the previously stated hurdles the last few years have created a very fragile ecosystem and the slightest imbalance creates a tipping point. Well, we've tipped. There are too many upcoming changes in 2022 that have made us realize that we cannot keep up.
So, it is with a heavy heart that I am announcing our closure. The timing was planned to occur with the PMC location opening but there is a bit of a delay and PMC is doing its best to work out the unexpected challenges.
We have been working with our current customers to get all refills available taken care of as insurance allows and have a transfer of files plan in place. The staff and physicians at Meeker Family Health are also working to get a plan in motion to fill in the momentary gap of service.
There's the meat! Here's the heart…
This community has been so supportive and given us so much! Not just supporting from business relationships but more from personal relationships created with nearly every one of our community members through serving as the pharmacy. We will miss you all in the capacity of your pharmacist and pharmacy staff, but none of us are going "anywhere." We all still hope to have a minute to chat in line at the grocery store or in a social gathering at the post office or during the Range Call and Homecoming parades.
We have shared a lot of ups and downs. We know that all our past and current customers have done everything they could to support us. We know many were forced into mail order for costs but shared a few scripts here and there to keep us in business. Some took the budget hit and just flat out told Surescripts and CVS to take a hike. Allocations and wholesaler costs were often an issue. Please appreciate our hands were truly financially- and policy-tied on too many occasions. We were often extremely frustrated with that but had to make decisions to do what we could to support the community, as a whole.
Warned you I would be long winded! Just know we are sad that we had to make the decision; we are so grateful for the years we were gifted to serve, and our community is resilient. We do love and thank you, Meeker!
Diana Jones
Meeker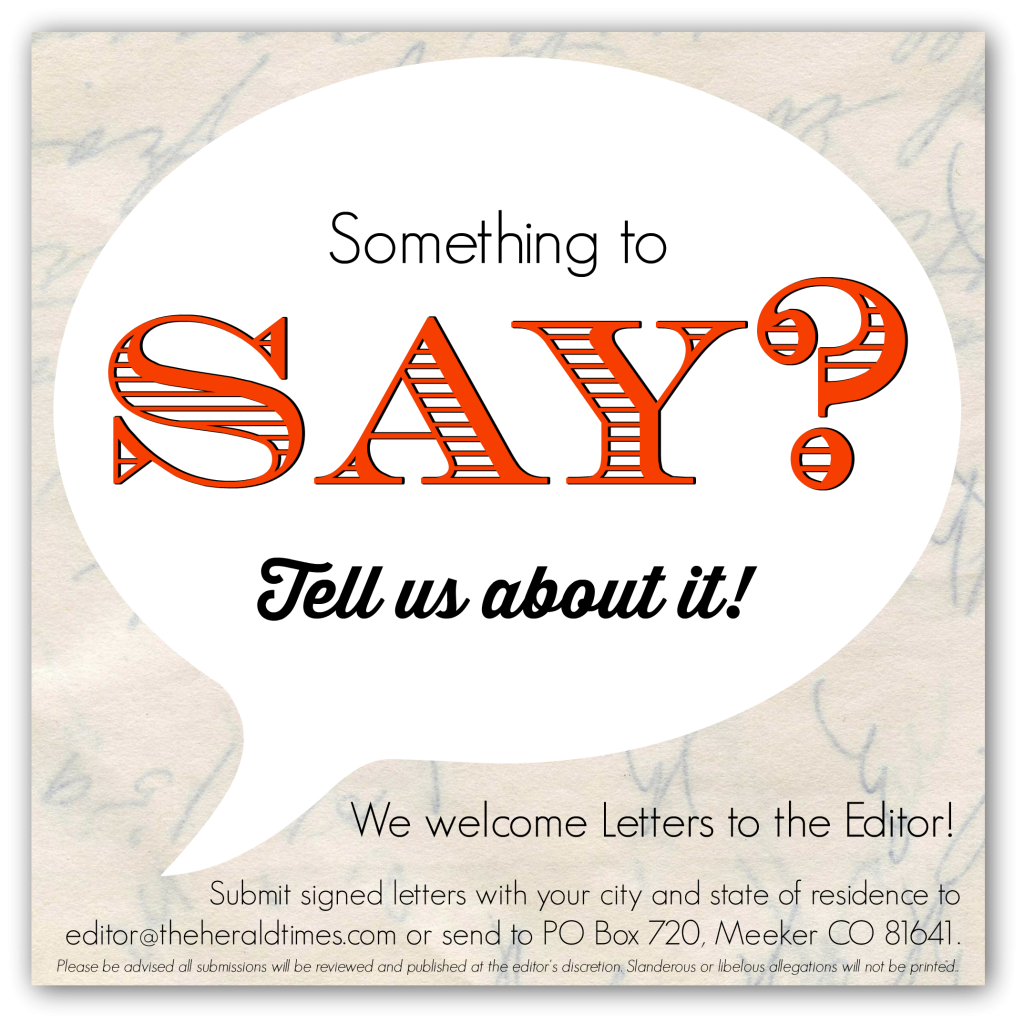 ---
Thoughts expressed on opinion pages are exclusively those of the writer and do not necessarily reflect those of the Herald Times. You are welcome to submit signed letters on matters of local interest to editor@ht1885.com, mail to PO Box 720, Meeker, CO 81641 or drop off at 304 4th St., Meeker. there is no charge.
Due to space constraints, please keep submissions 500 words or less.