Dear Editor:
Throughout the last year, I have witnessed such kindness and generosity from so many people that I thought maybe I should try to say something about it. A year ago, the White River Museum had been closed for COVID for several months. During that time our manager stepped down and our staff was pretty disheartened. We were able to rally with the support of our board.
Our staff used the time to clean many things and paint the front hall while we closed. We are fortunate that we were able to find people who really cared about the legacy to work there. Since that time we have had the help of the county to replace the lights. We have had the help of many people who maybe gave an hour, or two, or days to finishing all of the projects that had been waiting to be completed.
Thank you to the county. Although we faced the same budget reductions as everyone else, we still receive enough to staff the museum seven days a week. For a small community, this is a really big deal and totally unexpected by our visitors.
Thank you to the many individual contributors who dropped a small and sometimes large donation into our donation box or wrote a check. This money is used to pay for the utilities on the Museum, Garrison, Heritage Culture Center, and Coal Creek School. without you we would be hanging out in the dark.
Thank you also to our other contributors,
Thank you to the Halandras family for all that they have done.
Karl Casias (handmade guitar sold to pay for sink installation),
Tami and Brock Sanders (for the sink and fittings),
Northwest Auto (for the jack to raise the farm implements),
Family Automotive (for continuing to care for our Buick),
Taylor Electric (for great problem-solving),
Butch Ruckman (for the 1940 Buick),
Meeker Sand and Gravel (who has offered to help with the Garrison backyard gravel).
Thank you to my volunteers, Barbara and Vince.
Thank you to Jose Richardson for his amazing help with so many things, including the HCC kitchen cabinets, moving so many things during the move out of the garage space. the Garrison blocking project, cleaning, and so much more.
Finally, I want to thank my staff. I suspect that I may not always be easy to work for. Being a work-a-holic makes it uncomfortable for people sometimes. Claude Wood, Richard Secklecki, Kevyn Mack, you guys have done good work. In my frantic pace, I may not say that enough.
Special note to two of new staff/volunteers Kent Griswold and Mickie Slaugh who will soon be joining the team of crazy historians.
We have worked very hard to make White River Museum a place to experience history. If you have not been to the museum for a while, it might be time to come in. Although there is a boatload of work to do, we have done so much to create a clean, informative, and experiential museum, for everyone. We continue to curate exhibits and experiences for you to enjoy.
Thank you,
Teresia Reed
Executive Director
Rio Blanco County Historical Society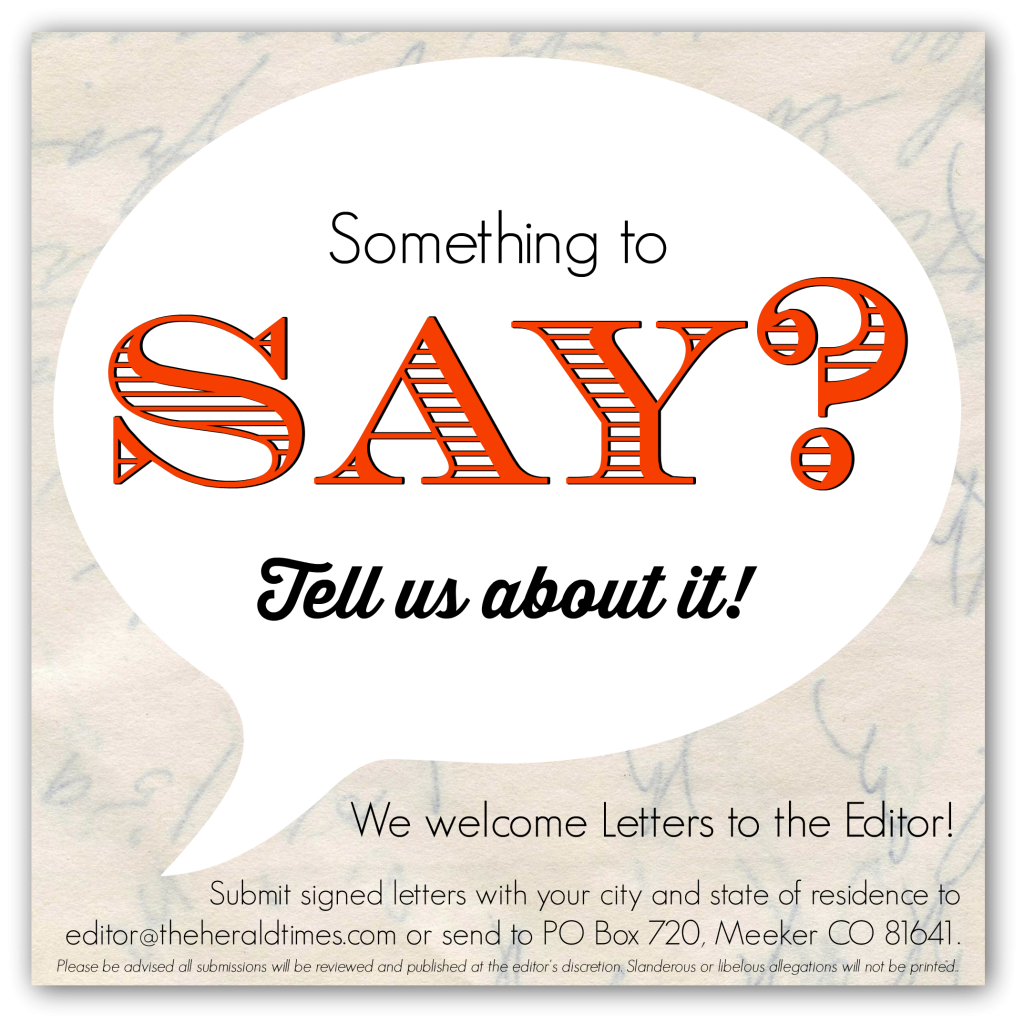 ---
Thoughts expressed on opinion pages are exclusively those of the writer and do not necessarily reflect those of the Herald Times. You are welcome to submit signed letters on matters of local interest to editor@ht1885.com, mail to PO Box 720, Meeker, CO 81641 or drop off at 304 4th St., Meeker. there is no charge.
Due to space constraints, please keep submissions 500 words or less.