Dear Editor:
Rio Blanco County Cattlewomen would like to thank Purkey Packing Plant, Clarks, Meeker General Mercantile and McGuire Auto Parts for hosting a great "Meat-In" Day BBQ, March 20, 2021. These businesses and people donated the hamburgers, hotdogs, condiments, fixing's, chips, drinks, and time to support a great cause and raise awareness to supporting agriculture and specifically the beef industry. They also raised over $900 and much to our surprise, generously donated it to our Cattlewomen organization! We are incredibly thankful and humbled at the support and generosity of our community members and businesses recognizing the importance of our beef industry. This donation gives us the opportunity to help monetarily against the newest assault on our livelihood in agriculture. We plan to forward this money plus more to Colorado Cattlemen's Association to help in the fight against current ballot initiatives and bills being presented. Please educate yourselves on the proposed ballot Initiative 16 or "PAUSE" Act, the Agricultural Workers' Rights Bill SB21-087, as well as the wolf reintroduction and understand the negative impact each will have on the agricultural industry. Please reach out and find ways to voice your opinions and concerns against these matters. We must stand united and do what we can to educate our families, friends, co-workers, and neighbors across the country to support agriculture. The uses of agriculture that we take for granted are endless. For example, look up the byproducts from a beef, sheep or pig and you will be shocked at what you use from those animals. There is much more to them than just meat.
In gratitude,
Rio Blanco County Cattlewomen
Kari Brennan, President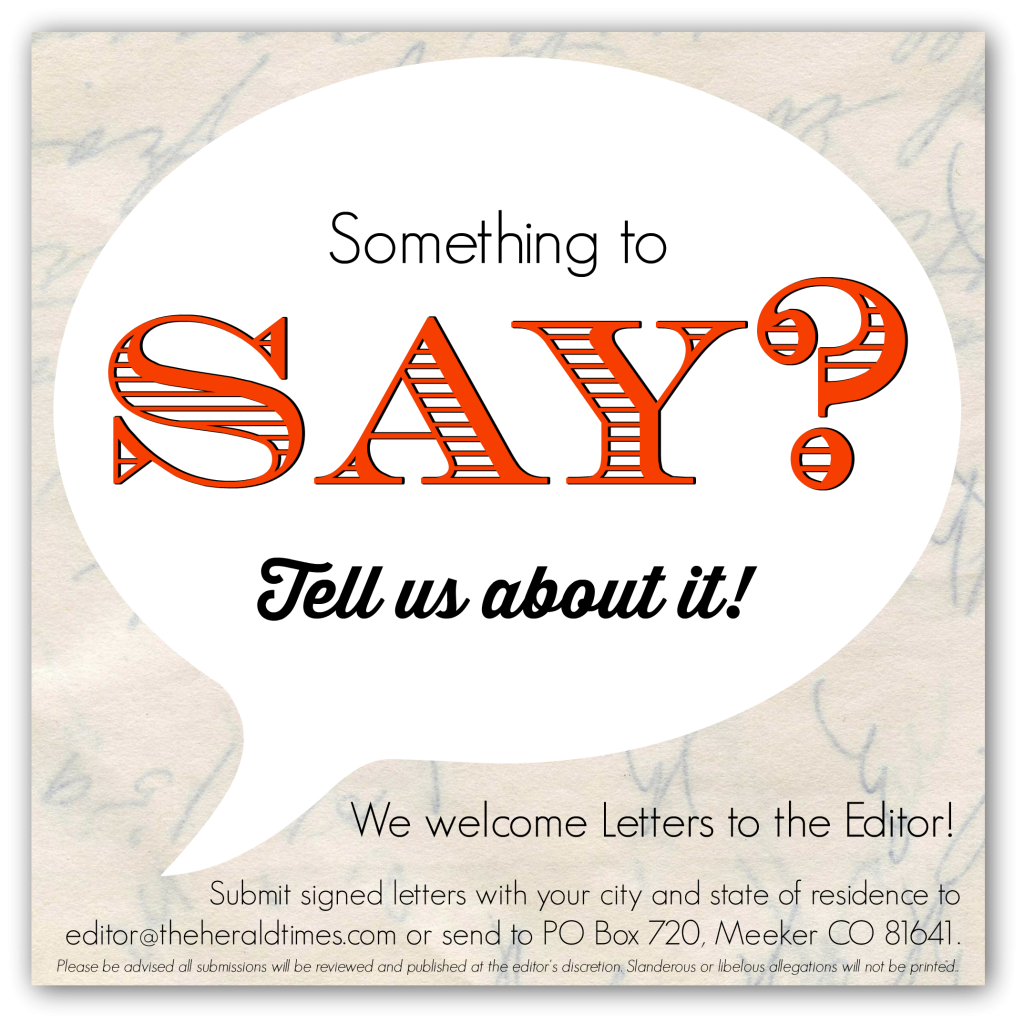 ---
Thoughts expressed on opinion pages are exclusively those of the writer and do not necessarily reflect those of the Herald Times. You are welcome to submit signed letters on matters of local interest to editor@ht1885.com, mail to PO Box 720, Meeker, CO 81641 or drop off at 304 4th St., Meeker. there is no charge.
Due to space constraints, please keep submissions 500 words or less.