Dear Editor:
I am writing this letter to explain why, after prayerful consideration, I am carrying petitions for recall: not because of the "whys" but the "hows"
Commissioners have a lot of power, and are, more importantly, public servants, serving those who have entrusted power to them to do what is right for the community by the following:
Listening to those they serve: appointed officials, employees, and citizens at large and investing hours getting to know those people and their needs
Becoming familiar with, and following State Statutes, Rio Blanco County Codes and processes and respecting employees who are following those laws and processes.
Treating everyone as a valued person or employee by:
Never being demeaning.
Never leaving an email or a phone call go un-responded to.
Listening with both ears and not already forming opinions about what is being said or not even considering input from others.
Doing some research concerning whatever the issue is, with input from others.
Allowing appointed officials and department heads to deal with an employee in accordance with codes and policies: example: letting the department head freely exercise their duties in accordance to personnel policies.
Treating those directly appointed by Commissioners with respect and dignity. If problems arise between the Commissioners and the appointee, there should be a process between them to discuss issues and come to an agreeable plan to correct the issue (a plan to move forward or reprimand allowing time for correction). If dismissal, after all other methods have been exhausted, is considered, the appointee should be informed of the decision before public action is taken. I realize Commissioners have the authority to dismiss without a process, but it doesn't make it right.
Never dismissing an appointee or employee over a personal vendetta, which in most instances, results in throwing the entire staff and citizens "under the bus" to accomplish: example attempting to get rid of dispatch.
Build a community and climate of trust by:
Working with all tax collecting entities on both sides of Rio Blanco County with the following process:
Hold meetings with elected officials and CEOS of all tax collecting entities at least twice a year to do long range visioning and hear each other's visions and hopes, then prioritizing community needs.
Work together when going for large grants.
Learn to prioritize which entity will go for large grants, with which all the entities might be entitled to submit grants, taking turns and supporting the entity applying knowing that there is a plan in place with which all entities will get their turn. Supporting other entities when they are applying for non-competitive grants.
This worked well in the past. When Rio Blanco County's entities applied for grants and representatives from the other entities supported those requests and presented an agreed upon County long range plan, Rio Blanco County was very successful in receiving very large requests, because those awarding grants were able to see a long term collaborative vision for the entire county and its citizens rather than just one entity's vision.
Work with all employees and the citizens of Rio Blanco County:
As everyone is aware, Rio Blanco County is in for some rocky times when funding will not be available for the levels of services currently provided and need to develop a strategy:
Go to employees. Employees have wonderful innovative ideas and golden suggestions to improve delivery of services, but have to feel safe and valued, the result of Commissioners who are open to listen and explore suggestions. Work with other tax collecting entities to find ways to share equipment, personnel and knowledge, for the good of all of Rio Blanco County (Commissioners' hard work and elbow grease).
Hold visioning meetings for the whole County citizenry to discuss their priorities are and what they could live with less of or without.
If employees, other tax collecting entities and citizens feel buy-in and ownership of decisions made because elected officials are listening, there will be a climate of trust and peace.
Celebrate employees. Let them know how much you appreciate their dedication.
Plan for positive outcomes!
I am ending this with a heavy heart. Unfortunately for over a year, there has been such abuse of power and disregard for policies, laws and codes, that the climate for Rio Blanco County employees and citizens has become fear, distrust and divisiveness. I don't know the WHYS, which in most cases should be left to the personnel department, and not elected officials, but I do know the HOWS…ridiculing, telling employees and others one thing and doing another, using the bait and switch….we want to get rid of this employee so we will just re-organize, but then we will move people around and give them higher salaries and really not save a lot of money, as was being sold to the public and ignoring input from the citizenry.
It is my perception, which may not be accurate, the Commissioners' goal has been to use their power to settle personal vendettas, create an atmosphere of fear to keep employees in line and ignore anything the public has tried to say. There have been so many wonderful employees I had the privilege of working with over the years, which have been thrown out as garbage and still others to be thrown out in the coming months: example: sales and use tax director even after testimonies of the great job she has and continues to do, from those who work with her.
I worked in Town Government for many years. We weren't perfect, but all the tax collecting entities learned to work together, we knew each other. We shared knowledge, personnel, and equipment because we all understood that we were public servants and worked to provide services to basically the same people. We envisioned that we had hundreds of bosses and tried to serve them well.
I have never been part of a recall in my life, but I have to step up this time. I wish it would be possible for Gary Moyer to retain his position as Commissioner and restore the trust of employees, other taxing entities and Rio Blanco Citizens, but in my perception, that is not possible. Therefore, I will be collecting signatures for a recall and prayerfully asking for wisdom, for this community to choose the right commissioner to replace Gary, if the recall is successful. I also ask you other two Commissioners to step back and prayerfully ask for guidance in your positions.
More than any time in the recent past, we must have Commissioners who view themselves as PUBLIC SERVANTS, working tirelessly to find innovative ways to provide services with less funding and unify our community by working well with people and building their trust.
From someone who has "been there, done that with God at the helm", the most important entities to bring back to "the table" individually, in our families, communities, nation and the world, is the wonderful awesome "Trio-God our Creator, our Savior Jesus and the Holy Spirit". This Trio has been kicked out of so many of the above and wait patiently in the "wings" to be invited again to all the "tables". With the "Trios'" love, wisdom, strength, compassion, and knowledge, we can be great again! The Trio has spoken to us numerous times and in numerous ways over the years. A clear message is found in II Chronicles 7:14 "If my people, which are call by My Name, shall humble themselves, and pray, and seek my face and turn from their wicked ways: then I will hear from heaven and will forgive their sin and heal their land! What a wonderful promise and I know from experience, it works, God can use us mightily as He has directed me to write this letter. I take no credit, but give God the Glory concerning how mightily he can work here, if we just give him a chance. I am an example of how he can work in someone as imperfect as me. We only have to ask and stand by and watch!
Sincerely,
Sharon Day
Meeker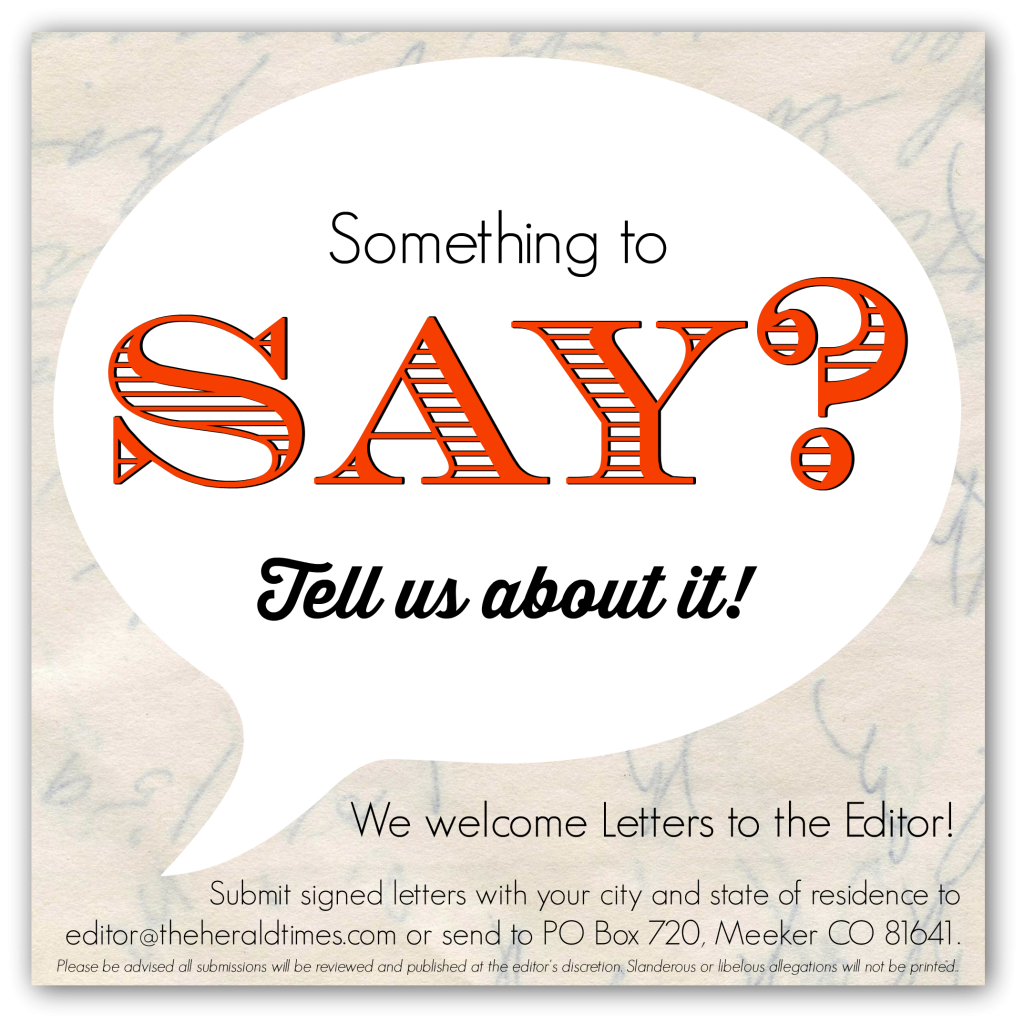 ---
Thoughts expressed on opinion pages are exclusively those of the writer and do not necessarily reflect those of the Herald Times. You are welcome to submit signed letters on matters of local interest to editor@ht1885.com, mail to PO Box 720, Meeker, CO 81641 or drop off at 304 4th St., Meeker. there is no charge.
Due to space constraints, please keep submissions 500 words or less.