Dear Editor:
As a concerned citizen, I recently observed an executive session of the Rio Blanco County Commissioners that was made public by request. The session was with the director of the Public Health Department Alice Harvey and two of her direct reports. I found this meeting and the behavior of some of the commissioners to be utterly shocking. In particular, Gary Moyer was extremely rude and condescending toward Ms. Harvey. Mr. Moyer offered up a number of accusations but provided no critical evidence to substantiate his claims. It became very apparent to me as an observer that Mr. Moyer was intentionally harassing Ms. Harvey with an expectation that she would resign rather than endure Mr. Moyer's verbal abuse and unsubstantiated accusations. I was very happy that Ms. Harvey has chosen to stay the course and persevere for the good of our community.
After watching the video of this meeting, a few questions come to mind. First and foremost, does Mr. Moyer understand the actual definition of "professionalism." I heard him demand professional behavior from Ms. Harvey however, he exhibited absolutely none himself. In the real world, the behavior that Mr. Moyer exhibited would be grounds for immediate termination. In the business world, behavior like that is not (and should not be) tolerated at any level. Frankly, I'm surprised he's gotten away with it so far without being sued for harassment. There is a law that exists called "Constructive Termination" and is loosely defined as when an employer intentionally creates a hostile work environment for the purpose of causing an employee to sever their employment. It appears that is what was going on in this meeting.
Second question is with regard to the allegations made by Mr. Moyer and the obvious lack of corroborating evidence to back them up. He made no effort to offer any specificity to his claims. The fact that he brought all this forward in a forum that he knew in advance would be made public shows a tremendous lack of professionalism, not to mention downright immaturity. One of the many unwritten rules of upper management is very simple… If you're going to reprimand someone, you do it under the supervision of Human Resources, but if you're going to really chew someone's backside, you'd better have your facts straight and above all, you do it in private. This public display of unmitigated provocation must not be tolerated.
My third and final question is quite simple. Does Mr. Moyer have any intention at all to try and get reelected to his current position of county commissioner? At this point, I would rather see anyone in that position, as long as they have a measure of business acumen and the ability to treat their employees with respect. An employer (especially someone in an elected position) should never, ever treat their direct reports like he treated Ms. Harvey. His behavior was completely outrageous but to take it one step further, his fellow commissioners Rector and Gates should have stepped in and put a stop to it. County Attorney Starr should know better than to allow that kind of behavior. With that in mind, I find fault in all three commissioners as well as the county attorney… One for harassing an employee and the other three for not putting a stop to it.
Kudos to Ms. Harvey and the other people from the RBC Public Health Department. They have been incredibly professional during this unprecedented pandemic. As much as anyone could have planned for this scenario, the COVID-19 pandemic is uncharted territory however, the folks at RBC Public Health rose to the occasion and implemented protections and processes (or as much as the commissioners would allow) that prevented our hospital from being overrun and curtailing what could have been severe damage our local economy. I'm not saying our economy is great by any means but without the professionalism and preparedness of our Public Health Department, it could have been much, much worse. I am especially inspired by Ms. Harvey's ability to withstand the horrible treatment she received from Mr. Moyer. She deserves an award for that alone.
Dave Robicheaux
Meeker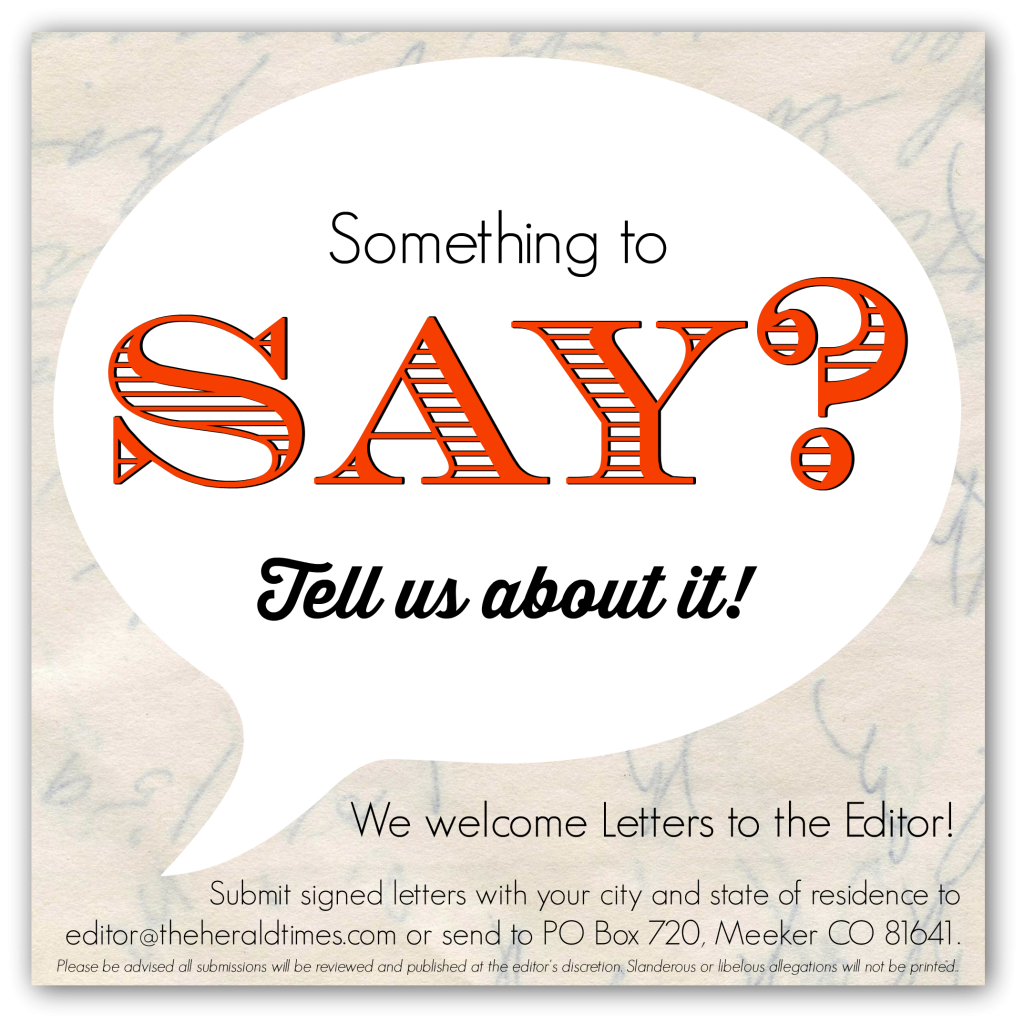 ---
Thoughts expressed on opinion pages are exclusively those of the writer and do not necessarily reflect those of the Herald Times. You are welcome to submit signed letters on matters of local interest to editor@ht1885.com, mail to PO Box 720, Meeker, CO 81641 or drop off at 304 4th St., Meeker. there is no charge.
Due to space constraints, please keep submissions 500 words or less.