Dear Editor:
There has been complaints from Moyer recall supporters about the fact that those who sign the petition might get an angry phone call from myself or my husband Matt. If we thought you were a friend and see your name on the recall petition, please plan to get an angry phone call. Gary Moyer is my dad and the attacks associated with this recall have become increasingly personal for not only him, but our family. Seeing the names of those we thought of as friends on the recall petition has hurt us and we have every right to voice our feelings. Wouldn't you do the same?
I have made exactly one phone call to a petition signer and it was to Father Scott Hollenbeck of the St. James Episcopal Church. Father Scott married Matt and I, baptized our son, and we planned to have him baptize our daughter. We felt Father Scott was a friend. Father Scott, his wife, Dawn and daughter, Kara all signed the petition. Since I'd seen them a few days earlier at Easter mass I did call Father Scott to ask him why he signed the recall. He was unable to answer and wanted to meet. I explained I did not want to meet with him — that I was too angry and the fact he couldn't give me reason why on the phone told me all I needed to know. I explained that I am aware that some in his congregation (Toby Leavitt Smith) support the recall, but I thought I was a member of his congregation as well, but I guess I was wrong. I told him I was hurt and disappointed. Father Scott has the freedom to sign any petition, just like anyone else, but that doesn't mean that doing so won't have an effect. I feel Father Scott signing the petition was unprofessional, if not unethical given his position. We are having our daughter baptized in Craig in less than two weeks because we do not feel comfortable in St. James. We are incredibly hurt and disheartened by the number of relationships we thought existed dissolve so quickly.
Bottom line is, if you sign the petition and we counted you as a friend, please do expect a phone call. The petition is not anonymous and we have every right to contact those who have signed it to try to understand why they didn't talk to us if they had concerns before signing it. Matt and I have never called anyone who signed the petition more than once. If you do run into me in town and I seem to be cold, it is because I know you signed that petition. If you'd like me to confront you all, I'd be happy to, but the energy it takes to watch people pretend to be friendly to me after they have just hurt my family is exhausting. We do know who you are and we are upset with you.
Before you sign the petition to recall Gary Moyer, look around and see how this effort has already divided our community over disgruntled employees' false claims and those who do not politically agree with the decisions all the elected commissioners made.
If Gary Moyer is recalled, no commissioner will ever feel they have the authority to hold any county employee accountable. Gary Moyer has held people accountable, just like he said he would, and is getting personally and professionally crucified for it. What is the point in electing officials if we do not give them the authority to manage our taxpayer resources?
Kelly Scott
Meeker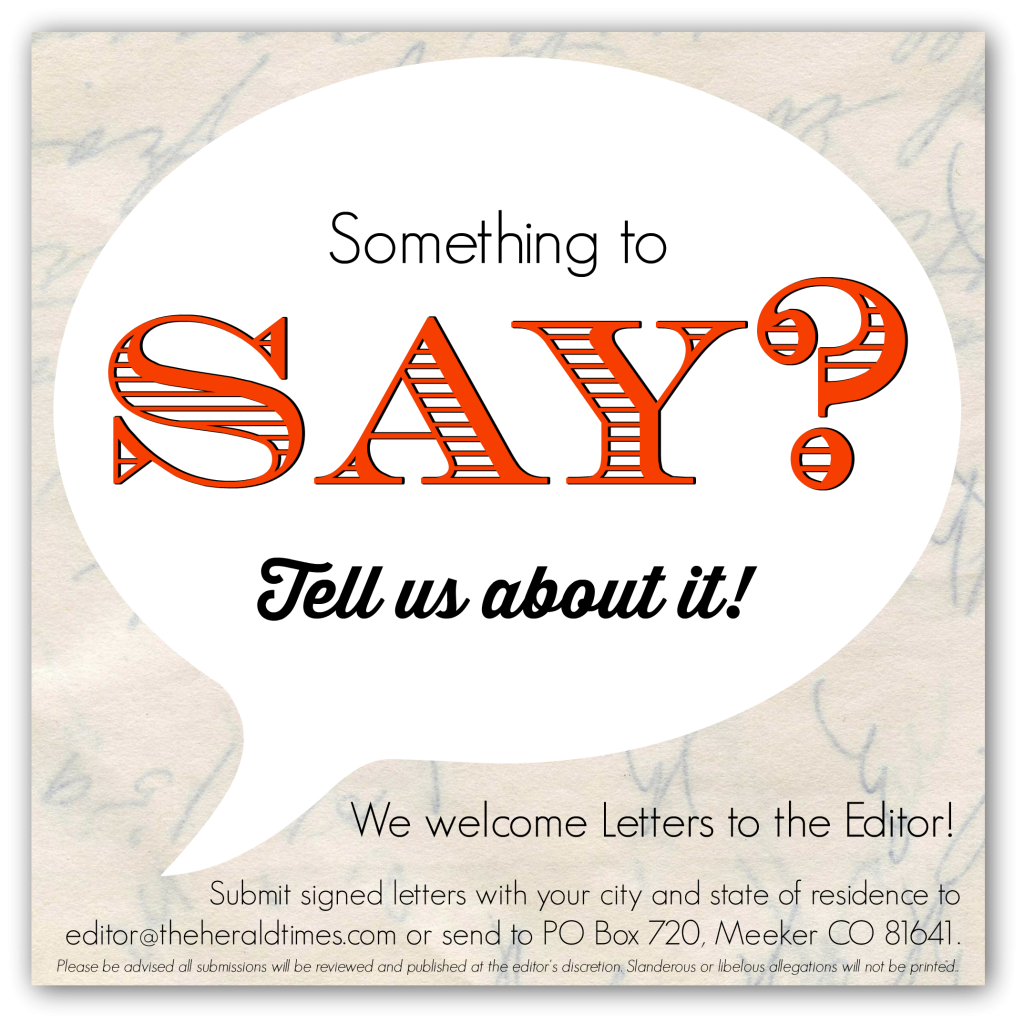 ---
Thoughts expressed on opinion pages are exclusively those of the writer and do not necessarily reflect those of the Herald Times. You are welcome to submit signed letters on matters of local interest to editor@ht1885.com, mail to PO Box 720, Meeker, CO 81641 or drop off at 304 4th St., Meeker. there is no charge.
Due to space constraints, please keep submissions 500 words or less.
Facebook Notice for EU! You need to login to view and post FB Comments!