Dear Editor:
This letter is to Governor Polis. My name is Abigail Morgan. I am a senior studying environmental science at Colorado Mesa University in Grand Junction, Colorado. I was born and raised in Colorado; specifically, in the town of Meeker. I am writing to let you know that you are making a big mistake. While the people in the cities and counties surrounding Denver may not believe so, myself and many others in Meeker and other Colorado rural communities agree. There are many reasons as to why I believe this.
In my major, we are constantly discussing not only the environment, but also the energy industry. We understand the impacts of different energy sources on the environment whether renewable or nonrenewable. I have not only had the experience of learning about our resources in the classroom, but also through my summer internships at a Northwest Colorado coal mine you may know about because of the decisions that have been made that will eventually shut it down. That mine is under Tri-State Generation and Transmission and is Colowyo Coal Company. While I understand your push for green energy, I disagree with the shutdown of the mines, wells, pipelines and coal generated power stations. You are not only taking away the jobs that people in my community and surrounding communities rely on, but you seem to not understand that there is a major lack in sustainability with renewable resources on their own. Not only is there lack of sustainability with renewables, our nonrenewable resources are used for much more than just electricity. Without these materials, we will notice a large impact in our day to day lives.
Secondly, I have read the bill that you are trying to pass, SB21-135, the prohibition on the use of certain animals in a traveling animal act. You have identified these animals as performance animals. While, that is exactly what they are, you are making it seem as though these animals and their well being are being abused and restricted. This bill is labeling bucking bulls and broncs as "performance animals." The wellbeing and health of these animals is a priority for stock contractors and those people who make a living with them. Once again, you are taking away the living of not only the stock contractors, but also the rodeo venues, rodeo contestants and spectators alike. What about the history of rodeos in Colorado? These events are a part of our heritage.
And finally, you seemed to have deemed March 20 as "Meat Out Day"!? I do not understand this. Realizing that there are people with a strict no-meat diet, we do not need to make this a statewide "holiday" from meat. This is a direct insult to the way of life of the hard working farmers and ranchers as well as our Colorado history. These men and women work very hard around our state to provide healthy, high quality meat products for Colorado and the nation. To tell someone that their personal diet is wrong and celebrating this "no-meat diet" to make others feel as though that consumption of meat is bad, is not okay. I hope you will consider a "Meat In Day" for us meat eaters.
All in all, I am doing my best to be a voice for the rural communities within this state who do not feel like we are being heard (as we saw in the results of Proposition 114). While you are more focused on not offending the people in the cities where votes carry more weight than those in rural areas, we are very offended by these actions. Thank you and God bless.
Abigail Morgan
Meeker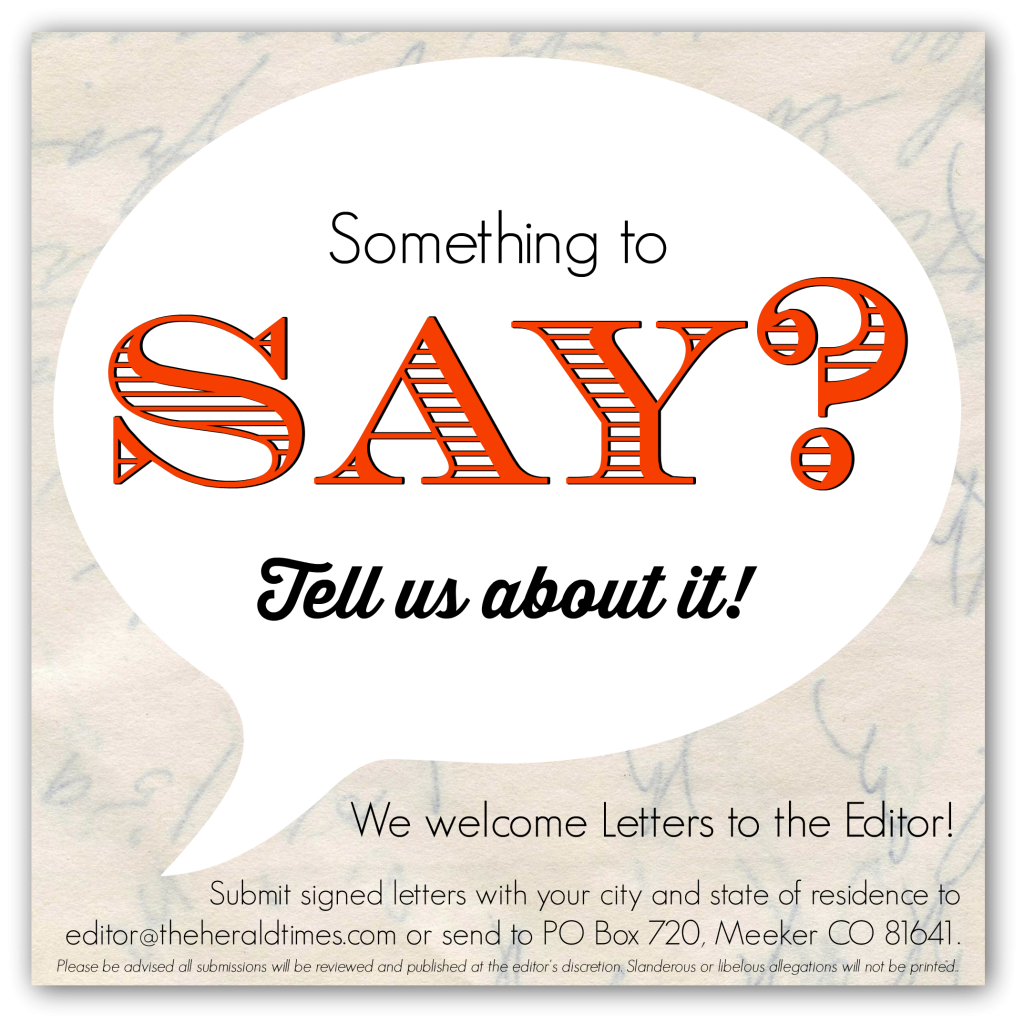 ---
Thoughts expressed on opinion pages are exclusively those of the writer and do not necessarily reflect those of the Herald Times. You are welcome to submit signed letters on matters of local interest to editor@ht1885.com, mail to PO Box 720, Meeker, CO 81641 or drop off at 304 4th St., Meeker. there is no charge.
Due to space constraints, please keep submissions 500 words or less.