Dear Editor:
Who is Colorado Farm Bureau and who is Rio Blanco County Farm Bureau? You might think we are an insurance company. While there is a Colorado Farm Bureau Insurance company, that is just one of many benefits you receive by being a Colorado Farm Bureau Federation member. In fact, if you have "Farm Bureau" insurance, you have paid your membership to the "Federation." So, let's dive deeper into who and what the "Federation" is.
The mission statement of Colorado Farm Bureau Federation (Farm Bureau) is: "To promote, protect and enhance agriculture and rural communities." The purpose is to bring forward solutions which improve agriculture production, economic opportunity, leadership development, and public policy. Farm Bureau is the largest agriculture organization in the state (and nation) and actively engages in issues that impact farming or ranching on the local, state, national and international levels.
The Farm Bureau organizational structure starts at the local (county) level with a board made up of agriculture producers and those interested in supporting the industry. Your Rio Blanco County Farm Bureau Board is: Janice Weinholdt (President), Callie Hendrickson, (Vice Pres.), Kelly Osborn (Secretary), Harold Anderson, Richard Ford, and Dr. Albert Kreuger. Rio Blanco County is a part of the 10th District (region) of the State and Callie Hendrickson represents the nine northwest counties on the Colorado Farm Bureau (CFB) Board. The CFB has representation on the American Farm Bureau Federation (AFBF) Board to carry out policies that are initiated at the local level.
Farm Bureau ideals and policies are guided and developed by its members. Farm Bureau is supportive of limited government, individual rights including the right to bear arms, property rights, state's rights, and multiple use of government managed lands and natural resources.
Recent activities that Farm Bureau has been actively engaged in include: (1) Initiative 16, The PAUSE Initiative, (2) forced introduction of wolves into Colorado, (3) Senate Bill 21-087 – Agriculture Workers Rights, (4) Colorado Addiction and Mental Health Program, (5) 2023 Farm Bill, and (6) water and "Waters of the United States."
The PAUSE Initiative (Protect Animals from Unnecessary Suffering and Exploitation) was proposed by animal rights activists and would have been devastating to food production as well as the pet industry. It would have criminalized traditional animal husbandry practices. Farm Bureau and may other organizations formed the Coloradans for Animal Care Coalition to oppose the initiative. They fought it all the way to the Colorado Supreme Court where it was rejected on a 7 to 0 ruling regarding single-subject rule that is Constitutionally mandated. Note, this issue may reappear in another form prior to the 2022 or 2024 election so stay tuned and continue to help your non-agriculture friends understand animal husbandry practices and what it takes to feed a hungry nation.
Farm Bureau worked tirelessly with other organizations to defeat the ballot initiative that now requires the forced introduction of wolves into Colorado. While the Coloradans Protecting Wildlife Coalition, with Farm Bureau a leading member, was successful in narrowing the gap in support of the initiative by 11 points, it passed by less than 2%. Unfortunately, that leaves the state with the mandate to introduce wolves on the Western Slope. Now that we are beyond the affirmative vote to introduce wolves into our environment, Farm Bureau will monitor and call on members for action as the introduction process moves forward. Our focus now is to make sure the process is not fast tracked, and that the voices of those being heavily impacted are being heard. We can't reverse the vote since the people have spoken, but we can help make sure compensation for livestock loss is fair and adequate, help advocate for limiting the number of wolves released, have a say in where the releases take place etc. This is the kind of advocacy you have received and can continue to expect from Farm Bureau.
As introduced at the state legislature, the Farm Labor Bill was devastating to food producers and industry. While it carries serious negative impacts to the industry, Farm Bureau and other ag organizations were successful in making a very bad bill "less bad." Farm Bureau staff will continue to work on this issue as it moves through rule making to reduce the negative impacts.
Regardless of your situation in life, where you come from, what county you live in or what your job is, Colorado Farm Bureau is working for you. Anyone can be a member of Farm Bureau if you are involved in agriculture or have an interest in preserving and protecting Colorado's food production. A membership entitles you to all member benefits and producer members are eligible to participate in the voting business of the organization. Membership dues support the activities noted above and many more. Membership discounts on car rentals, hotels, vehicles and other benefits will more than pay for your annual dues.
If you are a current member or interested in learning more about your local Farm Bureau organization, you are invited to our annual meeting and picnic at City Park Sept. 19 at 1 p.m. Please RSVP to Janice at 720-301-4279.
Colorado Farm Bureau is helping to make Colorado a better place to live.
Janice Weinholdt, President
Rio Blanco County Farm Bureau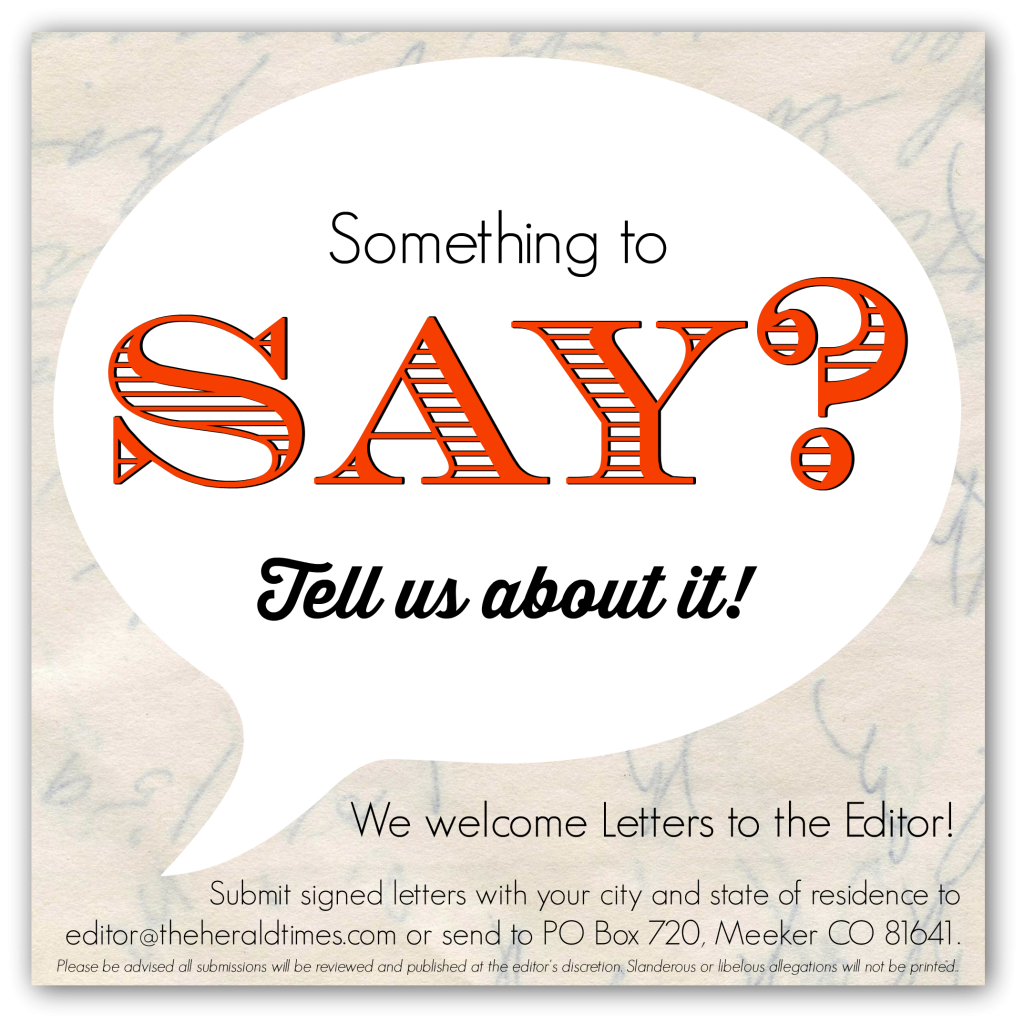 ---
Thoughts expressed on opinion pages are exclusively those of the writer and do not necessarily reflect those of the Herald Times. You are welcome to submit signed letters on matters of local interest to editor@ht1885.com, mail to PO Box 720, Meeker, CO 81641 or drop off at 304 4th St., Meeker. there is no charge.
Due to space constraints, please keep submissions 500 words or less.