Dear Editor:
The Western Rio Blanco Metro Recreation and Park District will need to go for a mill levy increase at the May 2022 election. They have not gone for a mill levy increase for operating expenses since 1996. They have tried to prolong asking the public for additional tax revenue to operate the Recreation and Park District as long as they could, but the tax revenues have dropped over the last 10 years and as a result, they do not get enough tax revenue to cover their current expenses. They have used their reserves to the point where they will have to make drastic cuts and closures to be able to operate with what they currently get from tax revenues and fees.
Their current mill levy of 4 mills is $994,520 less than it was 10 years ago. It has been dropping all but one year to get to this point. Their expenses have been increasing just like all your expenses have gone up over the last 10 years. They have had to use their reserves to operate. They will be out of reserves in 2023. The Rec District does get money from fees but because their fees are so low, it is minimal additional revenue. They have looked at what raising their fees would bring in and a substantial increase in fees would still not cover the expenses (wages, supplies, repair and maintenance and utilities) they have. The District has made cuts by not replacing more than four full-time people when they left. They start their part-time employees at minimum wage, but even minimum wage has gone up. They have not been able to keep up with what other entities pay their full-time employees in order to keep costs down. Because they have to maintain parks, buildings, golf course and the pool, they have had to replace equipment as it warrants. They do most of their own maintenance.
The Rec District feels they have been very responsible with their money in the past 10 years by cutting cost. They have let other entities go ahead of them with their mill levy increase requests. Some entities have gone a few times, but it has now come to the point that the Rec and Park District can no longer put this off. If they do not do something before 2023, the District could be in a place that they will have to cancel programs, close facilities, and parks. The District is looking to the public, they need the public to tell them what you want them to do for the future.
Their plan is to ask for an additional 4 mills which would bring their mills to 8 mills. This would allow the Rec District to continue to operate and maintain their facilities. We realize this is double, but this is what it takes to operate at this time. If they asked for less than 4 additional mills, they would have to come back to the public in a few years depending on the assessed values and ask for an additional mill levy increase again. If they asked for less than the 4 mills right now, they would have to still increase fees, cut programs, and cut back on facility maintenance which mean longer shutdowns. They feel if they ask for the additional 4 mills now, they can keep fees at a minimum and still provide the services they are providing at this time.
The Rec District provides a lot of free events for the residents of Rangely such as the fireworks, inflatables in the park (three to four times per year), inflatables for school field days, Springfest for the middle school students, Septemberfest activities, Christmasfest activities, cook offs, pie contests, free swim days, Pool Easter Egg Hunt, Halloween activities, free pool time for Swim team to practice, free pool time for school PE classes, discounted admission for CNCC students, Rec Center parties for CNCC students, discounts for employee admission for numerous companies, free Wi-Fi.
The current cost to property owners for the Rec District 4 mills is:
• $200,000 Home: $57.60 per year
• $1,000,000 Business: $1,160 per year
• $1,000,000 Oil and Gas: $3,500 per year
BY INCREASING TO 8 mills for the Rec District your taxes would be:
• $200,000 Home: $115.20 per year
• $1,000,000 Business: $2,320 per year
• $1,000,000 Oil and Gas: $7,000 per year
History of mill levy increases for the Rec District is:
• 1990: 2.448 mills
• 1996: 4.000 mills
Last time raised for operating expenses was 25 years ago.
History of admissions fees increase: 1980 2004
Adult 1.50 2.75
Teen 1.25 2.50
Child 1.00 2.00
Seniors Free Free
Since 1980 (41 years ago) the admission prices have increased $1.25, that equals an increase of $0.03 per year.
Admission other places:
Vernal Meeker Gypsum
Adult 7.00 7.00 10.00
Teen 5.00 5.00 5.00
Child 5.00 4.00 5.00
Seniors Free 5.00 7.00
The Rec District feels, because the taxpayers support the Rec District through their property taxes, it did not seem right to charge as much as other places charge.
Listed below are some of the capital projects done over the last 10 years totaling $1,805,595.59. This can help everyone know what the Rec District has spent the tax revenues and reserves on that has caused them to get to this point:
• 2011: $277,565.24
Copier, 2 trucks, 2 snowplows, roof on Rec Center, pumping system
• 2012: $206,899.26
Computer, 2 lawn mowers, 2 treadmills, 1 elliptical machine, NEOS Wall in Elks Park, picnic tables, hydroseed, fence at ball fields
• 2013: $206,894.37
Extractor, new trees, resurface racquetball floors, driveways and sidewalks and weight room addition
• 2014: $299,867.26
Trailer for inflatables, truck, Hefley irrigation, concrete work and sod, skid steer, compressor, mower, Workman sprayer, 14-person van
• 2015: $113,574.87
4 mowers, spin bikes, inflatables for pool, duck slide, aqua treadmill, motor for water slide
• 2016: $253,740.65
Irrigation at park and camper park, LED lights at Rec Ctr, resurface playground, picnic tables, 5 treadmills, 1 elliptical, replaster hot tub and additional inflatables for pool
2017: $28,557.70
Mower, camper park fence, welder
2018: $68,560.95
Ball field renovations, RTU units, security system, tennis court fencing
2019: $141,383.36
Golf Course Gazebo, pump, replace another pump, boiler repairs
2020: $176,467.52
Camper Park Gazebo, boiler repair, seal and caulk pool, new card admission program
2021: $217,004.61
Trees, truck, Toro Workman, pool resurface
The Board of Directors, Director Tim Webber and all the employees of the Rec and Park District want to make sure you—the public—know how much they appreciate your support. They know they would not be able to do what they do without all of you. They know these are tough times and they want you to know that this was a tough decision to make. If they could have figured out another way, they would not be coming to the for public for a tax increase. They just do not have any other choice. If you have any questions regarding this information, please feel free to contact Tim Webber, Jennifer Noel and Linda Gordon.
IN MAY 2022, PLEASE VOTE "YES" ON THE BALLOT QUESTION FROM THE WESTERN RIO BLANCO METRO RECREATION AND PARK DISTRICT
THANK YOU
This article is provided by "Committee to vote yes" on Rec Center 2022 mill increase. Western Rio Blanco Metro Recreation and Park District provided the data to the committee.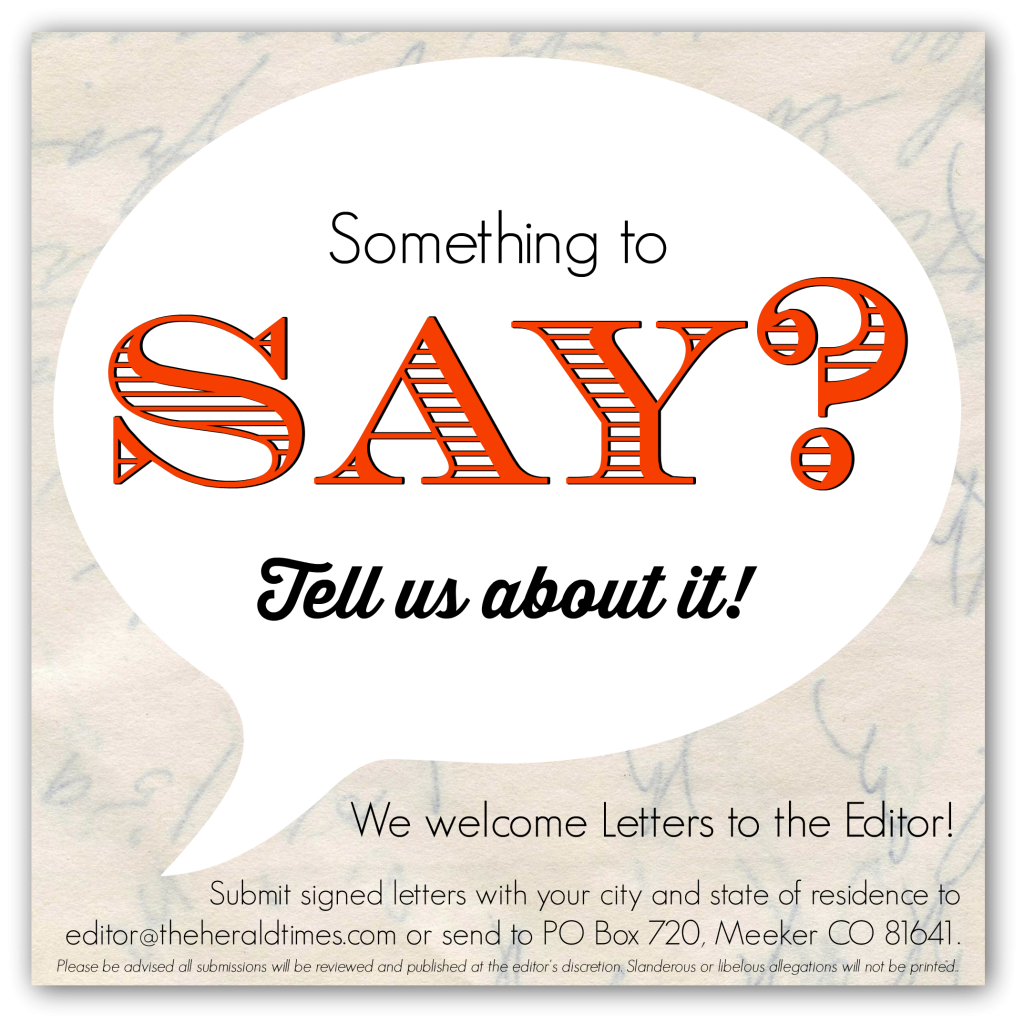 ---
Thoughts expressed on opinion pages are exclusively those of the writer and do not necessarily reflect those of the Herald Times. You are welcome to submit signed letters on matters of local interest to editor@ht1885.com, mail to PO Box 720, Meeker, CO 81641 or drop off at 304 4th St., Meeker. there is no charge.
Due to space constraints, please keep submissions 500 words or less.