GOP vice chair leave of absence
Dear Editor:
Immediately after the Rangely Republican forum, I took a leave of absence from my duties as Vice Chair for the Rio Blanco Republican Central Committee effective June 9, 2022, until July 1, 2022. Any questions should be directed to Sam Tolley, Chairman.
A couple of weeks ago, I wrote a letter supporting Doug Overton for County Commissioner. I have since learned, in doing that, I was in violation of the State Republican Bylaws. One of our candidates lodged the complaint against me to the RBC Central Committee Chair. The Chairman contacted the State GOP Chair in regard to the allegation and learned two things; (1). Yes, I was in violation of the State Bylaws and (2). If I wanted to publicly support a candidate, I could take a leave of absence from my position of Vice Chair for the RBC Republican Party.
I understand and support both bylaws, county and state. In that regard, I have chosen to take a leave of absence in order to support the candidates of my choice.
In closing, I encourage you to vote; your vote does count! I will continue to support Doug Overton for County Commissioner and Rich Garner for Sheriff. I believe both men to have strong ethical principles, common sense and a desire to truly serve the citizens of Rio Blanco County.
Thank you,
Mona Avey
Meeker
---
Support for Garner
Dear Editor:
I have known Rich Garner for 20-plus years, and you won't find a harder working, more honest, dedicated individual anywhere. Rich is a man with traditional values, morals and integrity and he is respected by all those who know him. He stands up for what he believes is right, and will fight for his family, his friends, his neighbors, and his community.
Rich has extensive law enforcement experience, and has worked his way up through the ranks from patrol deputy, to sergeant, to lieutenant. He has served overseas, both in the military and in a law enforcement training role.
Rich has a heart for his community and the people of Rio Blanco County. He will talk to you, he will listen to your concerns, and he will give 110% to protect you and your families.
If you want a sheriff who will truly represent you and look out for you, then you want Rich Garner as your sheriff.
Shari Burkhalter
Palisade, Colorado
---
Preventing the next algae bloom
Dear Editor:
As reported in your edition last week, USGS has summarized its four-year study of algae in the White River above Meeker. The results are preliminary; per USGS protocol, the final report is pending review by other experts at USGS. In keeping with policy, USGS does not make recommendations for management. Its job is to collect, analyze and interpret data following rigorous scientific standards. Given those caveats, however, it is reasonable for our policy makers and for people along the river to take steps to prevent another algae bloom.
Among the USGS findings, and as documented in other studies as well, algae growth is limited by available nutrients, especially nitrogen and phosphorous (N and P). USGS found that phosphorous levels in the river are increasing. While they have not yet determined the reason for the increase, there are well known natural and human nutrient sources. Leaky septic systems, fertilizer runoff, pasture runoff, and fish food, among other factors, all add N and P. Landowners along the river can take extra precautions to reduce nutrient load in the river, e.g. by fixing septic systems, minimizing fertilizer application, and stopping fish food. In addition, maintenance and restoration of the riparian zone (riverbank) helps capture contaminants before they reach the river. Even just 25 feet of vegetation margin along the riverbank goes a long way toward protecting the river's health.
Other factors identified in the USGS report aren't so easily controlled. Earlier spring runoff, lower peak flow, low flows in late summer, and associated higher water temperatures all encourage algae growth. Those are all factors associated with prolonged drought due to climate change. We're not going to reverse that trend any time soon, but with appropriate will and leadership we certainly can address the underlying problem.
Due to its limited mandate, the USGS did not study the specific effects of insecticides, sediment disturbance, pond runoff, or invasive species. Other studies submitted to the Conservation District's umbrella Algae Advisory Group, however, do show evidence of the adverse effects of insecticides on the river's aquatic insect population, with potential impact on algae growth and the river ecosystem generally. Channel and pond disturbance very likely contribute to algae growth by freeing nutrients trapped in sediment.
The USGS study is a significant contribution to understanding the dynamics of algae in the White River above Meeker. Its interim summary has identified steps we can take immediately and also long-term to prevent algae from once again choking the river. Steps we can take right now. This summer.
Dr. Bob Dorsett
Meeker
---
Support for Overton
Dear Editor:
I am writing in regards to Doug Overton running for County Commissioner. I have known Doug since 1977 when he purchased the Chevron station located at 6th and Market Street. It's now the Ducey's electric building.
During the Chevron days it was a buy place. Doug and his team would fix anything from a lawnmower to a semi. Over time, Doug purchased modern wreckers and provided a necessary service towing vehicles from accidents, hunters stuck in snow and mud, etc.
Doug joined the Meeker Fire Department and became an EMT and was very active in Search and Rescue. Doug being raised in Meeker and an outdoorsman, he knew the land and landowners. Furthermore, he was exceptionally good at operating equipment and fixing them. I always enjoyed working with him.
Without telling his life's story from my viewpoint, he proceeded to purchase the Bumper to Bumper building where NAPA Auto Parts is located. This provided auto parts and overnight parts delivery which was something we never had until then.
Doug then worked at Colowyo Coal Company and back to Meeker after purchasing Reg-Nichols, now known as Northwest Auto. He was still fixing anything from a lawnmower to a semi. Doug has a tremendous customer base because he treats people with respect and courtesy. He employs a dedicated staff.
I worked with Doug professionally and personally. He has integrity and honesty and is quite capable of being a Commissioner representing the citizens in a professional manner.
Si Woodruff
Meeker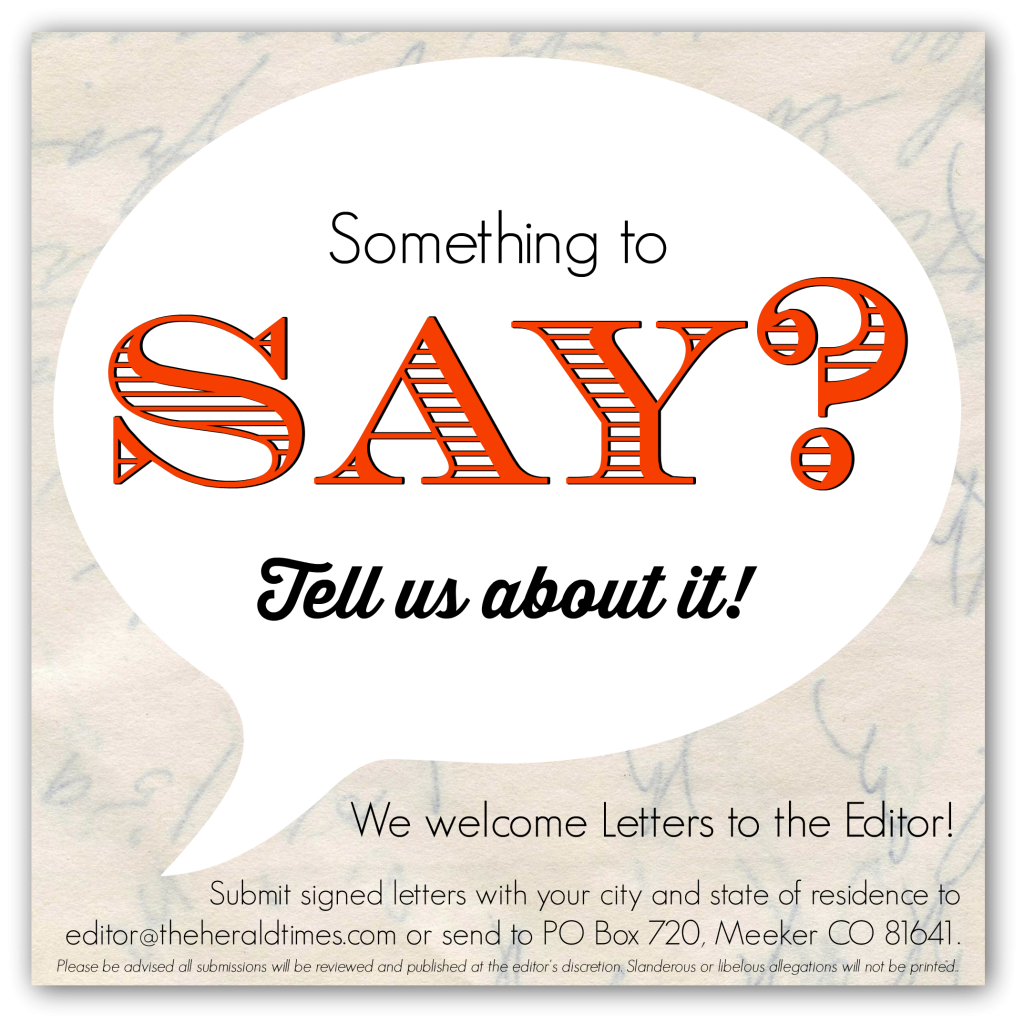 ---
Thoughts expressed on opinion pages are exclusively those of the writer and do not necessarily reflect those of the Herald Times. You are welcome to submit signed letters on matters of local interest to editor@ht1885.com, mail to PO Box 720, Meeker, CO 81641 or drop off at 304 4th St., Meeker. there is no charge.
Due to space constraints, please keep submissions 500 words or less.