Ineffective
Dear Editor:
Yelling, aggressive insults and threats of attrition are the hallmarks of an uneducated, ineffective manager.
Chuck Ewald MA, MS
Meeker
---
Thank you, Mr. Moyer
Dear Editor:
As someone who has known Mr. Moyer since high school, I can tell you he has taken on this job out of true concern for this county. Being a commissioner is a very important yet difficult undertaking, maybe even more-so than it has been in the past. Rio Blanco has always been a very "rich" county and we are now at a point where we need to be watching how we spend every single dollar if any of us want to have a future here. Mr. Moyer and the board seem to be reviewing all departments fairly in the burden-laden task of making budget decisions with much less money than in the past. Yes, just like anywhere, sometimes the longest tenured, highest salaried employees become the most complacent and resistant to change, and should definitely not be exempt from review. This will almost assuredly be the least popular thing, but popularity is not a fair or fiduciary way to handle our situation. Unfortunately, many times in the past here in RBC it's been popularity or the "good-ol boy" mentality that has led the decision making of our leaders.
I'm thankful that Mr. Moyer has been standing by his conservative values (that he promised when he ran for this position) and has been making decisions based on what's right even though he know it may not be popular.
As a business owner in this small town, I have personally benefitted from the stand he has taken over the past year to support taxpayers throughout the various COVID restrictions. He is always keeping us apprised of the commissioner's stand on decisions that directly affect us.
Budget cuts are not going to make anyone in charge popular. None of us like having to cut programs or services, of course. However, at this point there is no choice. The current leadership of our state has damaged our local economic mainstays (fossil fuels, agriculture, etc.) to a point of making our commissioner's jobs even more difficult than they have been in the past. I appreciate that Mr. Moyer makes decisions based on what is best for our businesses and our local economy. We always know where he stands and he has never wavered from his conservative values. Thank you Mr. Moyer for continuing to make those difficult decisions for the people you serve.
Sherri Lyke
Meeker
---
Thanks to recall signers, signature collectors
Dear Editor:
I want to take this opportunity to thank everyone who has signed the Gary Moyer recall petition. It takes courage and a desire for change. It takes people who take an interest in their community and see the unacceptable actions of our county "leaders."
I also want to thank the 14 people who stepped up and took on the difficult task of collecting signatures. They are spending much of their free time, braving the cold weather, going door-to-door to visit with residents about the issues. I'm in awe of their dedication and proud to live in a community with such caring, involved people. It takes people like these, willing to go outside their comfort zone, in order to make their community better.
After two weeks, the recall is going exceptionally well. We are close to achieving our goal. If we've missed you and you would like to sign a petition, please call Terry Smalec in Rangely at 970-675-2355 or Dave Morlan in Meeker at 970-878-8093. Thank you all for your support!
Respectfully,
Dave Morlan
Meeker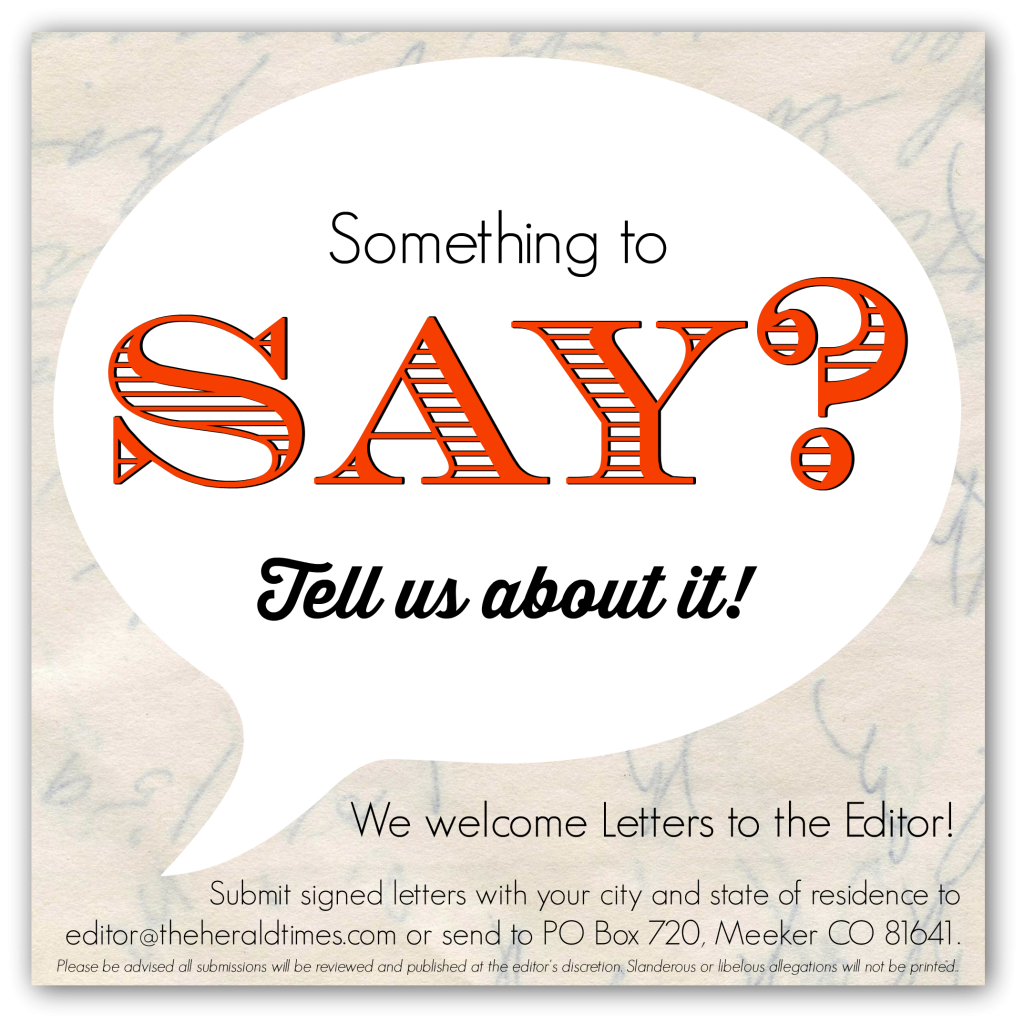 ---
Thoughts expressed on opinion pages are exclusively those of the writer and do not necessarily reflect those of the Herald Times. You are welcome to submit signed letters on matters of local interest to editor@ht1885.com, mail to PO Box 720, Meeker, CO 81641 or drop off at 304 4th St., Meeker. there is no charge.
Due to space constraints, please keep submissions 500 words or less.