Recall effort doesn't make sense
Dear Editor:
As I have read and re-read the letters to the editor in last week's paper submitted by Terry Smalec (Rangely) and Toby Leavitt (Meeker), I have become more dismayed and bewildered by this recall effort. It doesn't make sense and I cannot understand how it was approved when the reasons for the recall are false. However, I was told the approval for a recall came from the attorneys.
Mr. Smalec's letter was more critical of the Rio Blanco County GOP support of all elected officials rather than any wrong doing on the part of Commissioner Moyer. One sentence stating he had visited with people who wanted to recall Gary Moyer for many reasons but did not elaborate is questionable.
Ms. Leavitt letter saddened me that she felt the need to share comments she received while gathering signatures. Each comment was someone's personal opinion, not necessarily fact or truth. To quote Ms. Leavitt, "Good leaders simply surround themselves with smart people and know how to utilize employees to their strengths." What if that simply does not work? What then? Are employers expected to keep employees that no longer perform their duties adequately or safely. I think not. Employees who fail to perform satisfactory do not remain employed, regardless of their position.
Thank you.
Mona Avey
RBC Citizen
---
Ignorance can be solved, stupidity cannot be helped
Dear Editor:
After reading the article "Animal Cruelty Initiative" I decided to write this letter and send it to several different Colorado agencies and persons of importance and influence.
The article identifies correctly the term "livestock." Livestock are not intended to be considered as pets but sources of protein human nourishment. In Genesis 9:3 God gives Noah all animals for food. Traditions determine our animals we use for food and we call these livestock.
In early years it was observed that consumers needed to be protected by determining certain weights and measures in all agriculture. Twelve inches equals a foot, 16 ounces equals a pound, etc. These are known as US Weight and Measurements of the United States Department of Agriculture (USDA).
In relation of cattle there are eight grades of meat for several reasons to protect the consumer. These are: Prime, Choice, Select, Standard, Commercial, Utility, Cutter, and Canner. While some consumers have chosen not to eat meat for their protein, most consumers desire to buy Choice for their beef diet. There are three classes of market beef: Butchers (heifers and steers 16-24 mo. in age), Supermarket (heifers and steers, 16-30 mo. in age) and Manufactured, most hamburger (12-20 mo. bulls, heifers, steers). Nothing over 30 months, and usually 24 months is sold as steaks, roasts and other such cuts.
"Sage" is quoted in the article that "We didn't feel that slaughtering baby animals was humane." My question is: how can you be so human to livestock intended to be food, in a society that slaughters human babies?
The article also states "The proposal removes the livestock exemption in state statute for animal cruelty and expands the definition of a sex act with an animal."
"Sage" says "Who would want sex with animals?" I have had cattle for 42 years. I taught vocational agriculture in high schools and junior college for 34 of those years. When I go out to check cattle at 2 a.m. and find a cow struggling with a calf that has a foot or head turned back, I put my hand into that cow to straighten the calf in the birth canal. My purpose is to save the life of that calf and its mothers. I have never had the thrill of a sex act at that time. Sage should be invited by some rancher to participate and see how he feels.
Ignorance can be solved with information. Stupidity is destructive and cannot be helped.
Richard Ellsworth
Former VO Ag Instructor
Gypsum and Meeker
---
Moyer in top 10 leaders
Dear Editor:
I have had the privilege of representing Rio Blanco County (RBC) landowners through my work on natural resources for the past 10 years and nearly 10 years prior to that I worked on natural resource issues at the state level. I have observed many great leaders in those nearly 20 years. Leaders with passion, leaders with conservative values, leaders with excellent business minds and leaders with strong work ethic. I have also had the privilege of working with Gary Moyer and observe the way he represented RBC and rural values at the local, State, and national levels. Gary ranks in the top 10 of those leaders I've known who share that passion, conservative values, excellent business mind, and strong work ethic.
Through his work with the conservation districts, Gary has served as a highly effective leader at the local, state, and national levels. He served as president for the local conservation district, as president of the Colorado Association of Conservation Districts, as the Southwest Region Chair, and on the executive board for the National Association of Conservation Districts. I can assure you they are all missing his leadership and strong voice of reason since he stepped down to serve as RBC Commissioner.
Gary is very effective at using parliamentary procedure to run a meeting and in delivering testimony on important issues such as water, rangeland health, private property rights, state and federal government overreach, etc. He has never been one to back down or compromise on policy issues that have been voted on by an organization. Gary has been very effective at getting locally developed resolutions and policies passed at the state and national levels. He represents rural Colorado very well when given the opportunity.
Unfortunately, there is an effort afloat to personally attack and disparage Gary here in RBC as a Commissioner and as an individual. This activity is very disheartening to me for a couple of reasons. I moved here to RBC because of all the good people I have met and come to know over the past 10 years. But now, I am seeing ugliness between lifelong friends and people with a great deal in common but who are choosing to join the movement within our state and nation to jump on a bandwagon without all the facts and divide us, as RBC citizens, as Americans.
The second reason I'm so disheartened is that we are rural Colorado and we need to work together. There are much bigger issues coming at rural communities than the petty issues that are behind a recall effort here locally. With both the state and federal attacks on water, extraction industries, agriculture, private property rights, second amendment rights, introductions of wolves, etc., we need each other to defend and protect rural Colorado. We don't need to be drowning any of our county commissioners in the local ugliness to the point they can't focus on what is truly needed to protect our rural counties. Let them do their job and vote at the next election.
I challenge us all here in RBC to band together, stop the ugly in-fighting, and take care of our communities. Let's stop attacking our friends and neighbors and focus our energies on bringing good things to our community.
Callie Hendrickson
RBC Citizen
---
Concerned
Dear Editor:
Great concern for Rio Blanco County and the need to defend Gary Moyer has prompted me to write this letter. I am proud to say that my husband is Gary Moyer, one of the three Rio Blanco County Commissioners. There is much rumor and gossip in this community, related to happenings in the Rio Blanco County courthouse staff and elected officials, that is not true. The following items, proven by county record, offer evidence of this:
No county commissioner, including Gary Moyer, has fired anyone individually. There is a basic chain of command that is necessary to lead, direct and hold staff accountable to the policies of the county and the description of their job. The chain of command is as follows – commissioners are over department managers and department managers are over their staff. Per public record, there have been some county staff that have been fired over the last year.
These actions were done by the department managers – not the commissioners. When personnel changes occur with department managers, the change is voted on by all three commissioners with majority ruling. Rio Blanco County policy does not allow access to personnel records or events that have occurred in "executive session". If Dave Morlan, previous RBC Road and Bridge Manager, would release the executive session records related to the non-renewal of his annual contract with the county, we could hear both sides of the story.
The commissioners have instituted some county department changes with efforts to meet budget requirements. Consolidation of departmental roles has resulted in job role changes and job loss. There has been a significant decrease in county revenue (~$2.3 million) in 2021 secondary to diminished oil and gas production in the county and state. With current state policy, this will continue into the future years also. Change must occur to keep the county afloat financially. Change can be very hard on individuals and groups and the commissioners recognize this and implement these changes in a respectful manner.
The personal attacks that my husband and I have received in the last 2-3 months related to perceived happenings in the county, is overly concerning. I guess this is "politics," but I will not resign myself to that reasoning. The attacks have been in the form of gossip, name yelling, flipping the bird, and a sheriff's car sitting outside our house for 10-15 minutes with no reason. The gossip has been in the form of word of mouth, the local newspaper articles and letters to the editor, and social media (one anonymous site goes by "Gossip Granny"). The pettiness of Toby Smith/Leavitt's letter to the editor is discouraging that there is no discussion of issues but merely personal attack.
Gary Moyer wants to get rid of dispatch, is another false claim. Again, this is a discussion that must be and was had by all commissioners during budget talks. All areas of an organization have and should be evaluated closely when expenses may need to be cut. You can't spend money you don't have – it was vital that the commissioners look at cutting expenses.
If the commissioners do not hold the department managers accountable to the mission and policies of the county, they would not be doing their job! The Commissioners have been elected by the people of Rio Blanco County to listen to all citizens, investigate and research the topic at hand, and then vote on what they feel is best for the present state of and future of Rio Blanco County. Decisions are based on an adopted policy that is set forth by the county. All outcomes of the decisions are majority ruled (at least two of three) commissioners voting dictates the outcome of the policy or action. Our social and government systems are set up in such a way to thrive on differing opinions with outcomes dictated by the "majority rule."
With all of that said, it is necessary for me to caution the community from the group that has solicited signatures (door to door, in front of the post office, etc) on a petition to recall Gary Moyer. The recall tool is based on lies and hearsay, not truths. I know the citizens of RBC are smarter to judge someone's job performance based on abilities, knowledge, political ideology, and experience instead of what they wear, who they have received favors from, or whether they have or have not done anything that will benefit them personally.
Respectfully submitted,
Betty Lou Moyer
Meeker
---
Moyer addresses allegations
Dear Editor:
I would like to take this opportunity to address the alleged allegations about me through a recall petition. First, let me say that the allegations are blatantly false and there has been not one shred of objective evidence presented by the people leading this effort to the contrary. Colorado Revised Statute § 1-12-103 states "The (recall) petition shall contain a general statement, consisting of two hundred words or less, stating the ground or grounds on which the recall is sought. The general statement may not include any profane or false statements." The circulating recall petition does have false statements which I'll outline below. Therefore, this recall has been conducted under false pretenses and should not have been allowed to move forward.
The petition alleges I was personally responsible for firing members of the county staff. I never acted alone regarding any dismissal of county employees who the commissioners supervise. All county staff below the level of county commissioners are managed directly by department heads. County records will show that this accusation is false.
The allegation that I tried to close the Rio Blanco County dispatch center is entirely false. With the other two commissioners, I worked to gather information regarding the most cost-effective way for Rio Blanco County to provide dispatch services considering the $2.3 million dollar revenue reduction we faced in the 2021 budget. It is important to note that the budget for Rio Blanco County's dispatch center is in excess of $500,000 per year while our neighbors in Moffat County budget $69,000 for dispatch in 2021. I think we owe it to the taxpayers of Rio Blanco County to have a conversation about what options are available. Public meetings were held with the Sheriff's Office and other interested parties in this effort. Again, I never acted alone in any way on this issue.
The accusation that I have been disrespectful or demeaning to county employees is also a blatantly false claim. While this may be up to individual interpretation, it is a fact that the meeting in question on Feb. 9, 2021, at 3 p.m. with our public health director was recorded and is available for the public's review. I strongly encourage everyone to do their homework and form their own opinion as to my conduct and the conduct of the public health director in that meeting. I would remind everyone that the public health director is employed by Rio Blanco County and answers directly to the Board of County Commissioners. I do not believe that it is out of line in any way for a county commissioner to remind their employee to follow county policy, be professional and not overreach.
I strongly encourage the citizens of Rio Blanco County to consider the consequences of a duly elected commissioner being removed from office because of not reappointing the former Road and Bridge Director. This was a unanimous and warranted decision by all three commissioners. Should this recall be successful any commissioner in the future will be very reluctant to require county department Heads to be held accountable. I would remind everyone that the former Road and Bridge Director, who is leading this recall effort, has yet to sign a waiver so you can know the facts as to why he was not reappointed. To lead a recall effort against the commissioner without being willing to let the public know the truth says it all.
I am extremely disappointed that there are citizens, many of whom I thought of as friends, who are willing to personally attack me and my family simply because they do not agree with my political stance. What is labeled by some as a personal agenda is really the political ideology that I believe in and campaigned on when I ran for this office. Any assertions that I am personally gaining anything more than my paycheck from my position as county commissioner are wholly inaccurate. To engage in the level of petty character assassination that has been demonstrated is very disheartening, hurtful and unproductive.
Please put forth the effort to verify the facts and require the truth before you formulate an opinion as to the merits of this recall. I am asking for your support as I work to do the best I can for Rio Blanco County.
Gary Moyer
Rio Blanco County Commissioner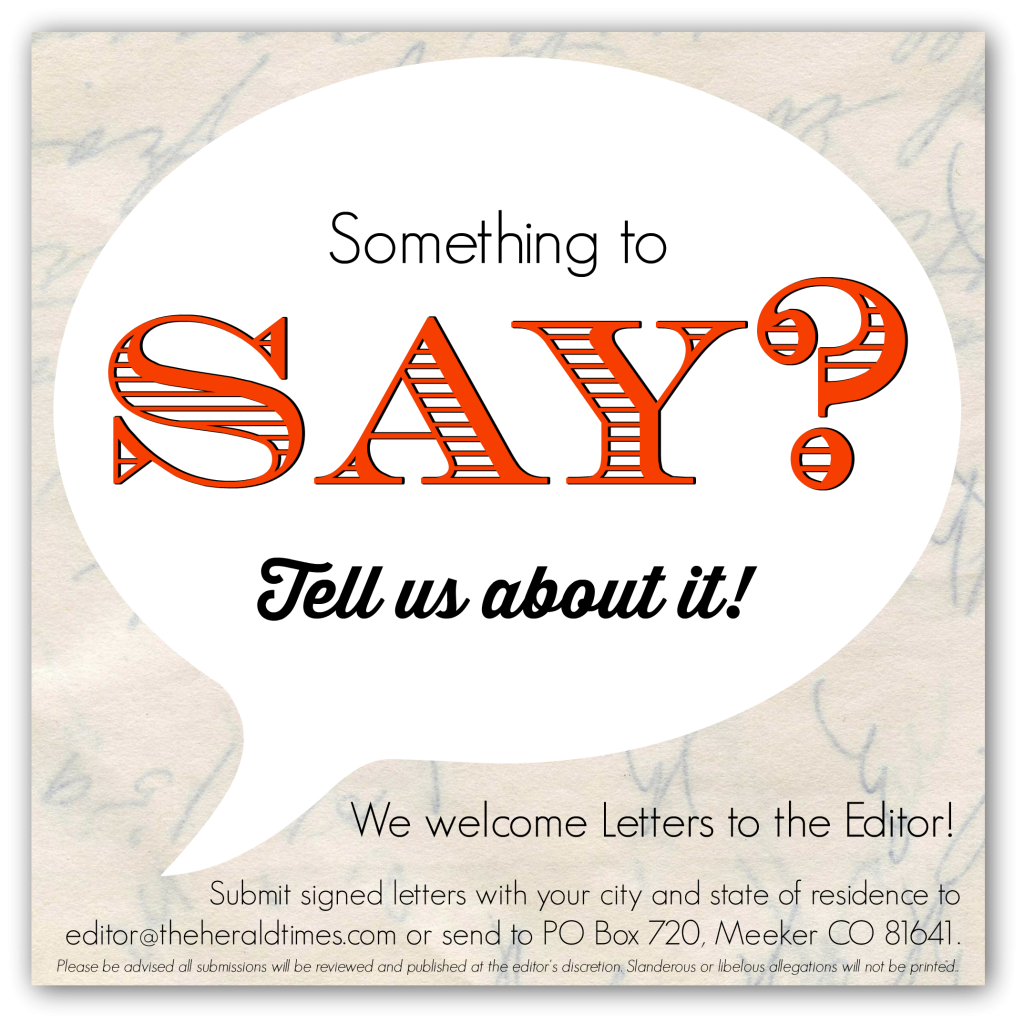 ---
Thoughts expressed on opinion pages are exclusively those of the writer and do not necessarily reflect those of the Herald Times. You are welcome to submit signed letters on matters of local interest to editor@ht1885.com, mail to PO Box 720, Meeker, CO 81641 or drop off at 304 4th St., Meeker. there is no charge.
Due to space constraints, please keep submissions 500 words or less.