A few years ago, some of the local fishing guides, landowners, and folks concerned about the White River formed White River Alliance. This group came together from a broad range of political, professional, and personal backgrounds and decided to form a strong alliance with one thing uniting them, the White River.
There are other government agencies and people involved in our river but, the White River Alliance is made up of the people and stakeholders themselves, coming together for a common cause. No politics, no partisanship, just folks that share a community of thought.
Over the past several years the White River Alliance has promoted education, and stewardship practices for landowners and stake holders along the river from Rangely to Meeker. This past year, the White River Alliance has also been cleaning up trash and tires in Meeker, as well as working to clean up trash on public and private lands and fishing accesses along the valley. To continue bringing people together and generating more support from both ends of the valley, the White River Alliance is looking to Rangely for future projects.
The White River Alliance members have also been big supporters of taking on invasive plant species thriving on the White River. They have provided volunteers and equipment to cut down and removed areas of Russian Olive along the river east of Meeker. The WRA has also joined the newly formed "White River Partnership", a group of over a dozen state, Utah, County, federal, and local agencies from Rangely and Meeker, led by River's Edge, with the mission of stopping invasive species like Russian Olive and Tamarisk from taking over our river.
The White River Alliance also supports education and participation by sharing information from great resources like our local Soil Conservation, CSU County Extension offices, and other experts in their field.
For 2021, the White River Alliance will be hosting a venue of great speakers and presentations available to the community and all interested folks throughout the year. Last month Dr. Nathan Perry, professor of economics from Colorado Mesa State gave a very well received presentation on economic, population, and other trends we might expect to see in Garfield, Moffat, and our County.
Please check out the White River Alliance and join us for a great 2021. We are 100% volunteer and 0% tax dollars! Membership is only $25/year. Become a member of the White River Alliance and you will join an extraordinary group of people working together for a common goal, the White River.
In closing, we are setting up an annual scholarship fund for young people or persons in the area. We are doing this in the name of a White River Alliance board member who has devoted his life to the White River and the Flat Tops, someone that has climbed every peak, followed every stream, explored every trail, someone who has spent his life in the wild places he loved so much. Tony Weiss.
Thank you,
Shawn Welder
White River Alliance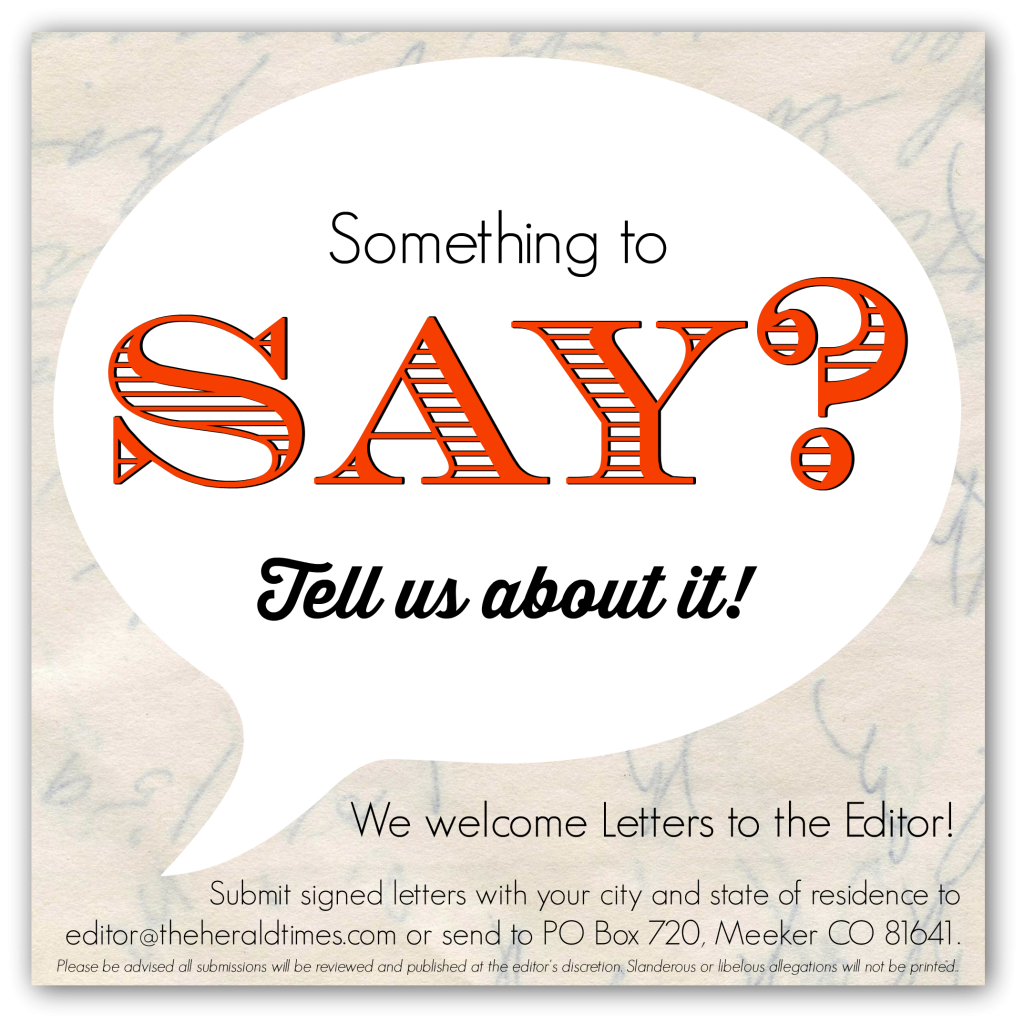 ---
Thoughts expressed on opinion pages are exclusively those of the writer and do not necessarily reflect those of the Herald Times. You are welcome to submit signed letters on matters of local interest to editor@ht1885.com, mail to PO Box 720, Meeker, CO 81641 or drop off at 304 4th St., Meeker. there is no charge.
Due to space constraints, please keep submissions 500 words or less.