Dear Editor:
I am writing this letter in response to Gary Moyer's "letter to the editor" which appeared in the June 10 edition of this newspaper to provide the community with the correct circumstances surrounding the decision to not re-appoint me at the Jan. 14, 2019, meeting by Commissioners Jeff Rector and Gary Moyer.
I was hired as the county attorney in April 2007. The commissioners at that time were Ken Parsons, Joe Collins and Forrest Nelson. After attorney Buck Benner retired the commissioners retained a contract attorney who lived in Grand Junction. This approach was not felt to be satisfactory and I was approached with the idea of becoming a full time in-house county attorney so that I would be available on a daily basis to work with department heads, elected officials, and of course, the commissioners.
This arrangement worked very well for the next almost 12 years. During that time I worked for nine different commissioners. I always followed directions I received from the commissioners and never discussed politics with any of them. I clearly understood the role of the county attorney was to provide the commissioners with legal advice so that they could make appropriate decisions on the various issues facing them. I never attempted to make any decisions for them.
In the fall of 2018 I announced to then Commissioners Si Woodruff, Shawn Bolton and Jeff Rector, that I intended to retire at the end of 2019. I proposed budgeting for a replacement attorney to be hired in the fall of 2019 so that I could work with my replacement regarding all of the pending issues, including the usual load of up to a dozen child welfare cases, a court of appeals case, and over one hundred child support cases. The commissioners unanimously approved my proposal.
I attended the Jan. 14, 2019, commissioners' meeting when Mr. Moyer was to be sworn in and four department heads re-appointed for 2019. I was expecting to be re-appointed. I was totally shocked when Jeff Rector and Gary Moyer voted to not re-appoint me stating that the "Commissioners wanted to go a different direction." Clearly the third commissioner, Si Woodruff, was as surprised as I was with their vote. And clearly Mr. Moyer and Mr. Rector planned this move prior to the meeting and had not included Commissioner Woodruff in any of their discussions.
Mr. Moyer's statement in his letter to the editor appearing in the June 10, 2021, edition of the Rio Blanco Herald Times that I "clearly demonstrated unwillingness to take direction from the commissioners" is blatantly untrue. His statement that "Borchard's personal political believes (sic) were not consistent with the majority opinion of the Board of County Commissioners (BOCC)" is also not true.
The county attorney position is a legal position having nothing to do with politics. In all the years I served as county attorney, I never had a discussion about politics with any commissioner.
Clearly I had no discussion with Mr. Moyer about politics since he voted to not re-appoint me only a few minutes after he was sworn in as commissioner and I had never discussed politics with him prior to that time.
His statement that I "clearly demonstrated unwillingness to support the direction of the BOCC" is simply not true. I am not aware of any action or communication during my entire time as county attorney that would support this allegation or the allegation that I was unwilling to take direction from the commissioners.
Mr. Moyer called me a "former disgruntled employee." He has absolutely no basis for labeling me a "disgruntled employee." The day after I was not appointed I sent an email to the commissioners, including Mr. Moyer, pointing out that the county would have to continue having representation on pending child welfare court cases. Since the commissioners did not have a replacement attorney identified, I offered to continue representing the county in court until an attorney could be hired. The commissioners hired me on a contract basis to continue working on these cases. Additionally, on Jan. 21, 2019, I sent an email to the commissioners, including Mr. Moyer, stating that I had heard they were interviewing Todd Starr for the county attorney position. I expressed my willingness to work with him on transferring the child welfare cases if he was hired. I also urged the commissioners to meet with department heads and elected officials and obtain their input before making a decision on going the direction of hiring a non-resident contract attorney who lived six hours away. Does this sound like a "disgruntled employee"?
Until Mr. Moyer decided to attack me in his letter I was very content to let bygones be bygones.
I am not going to comment on the statements Mr. Moyer made in his letter about Dave Morlan and Jeff Kummer since I don't know first hand all the details about their terminations. I will say this: based on the statements Mr. Moyer made up about me, I seriously question the truthfulness of what he has to say about them.
I have never before written a "letter to the editor." I hesitated to write this letter criticizing an elected official, but I felt the necessity to respond to what I consider a serious mis-representation of the facts surrounding the termination of me from my position as county attorney.
Kent Borchard
Meeker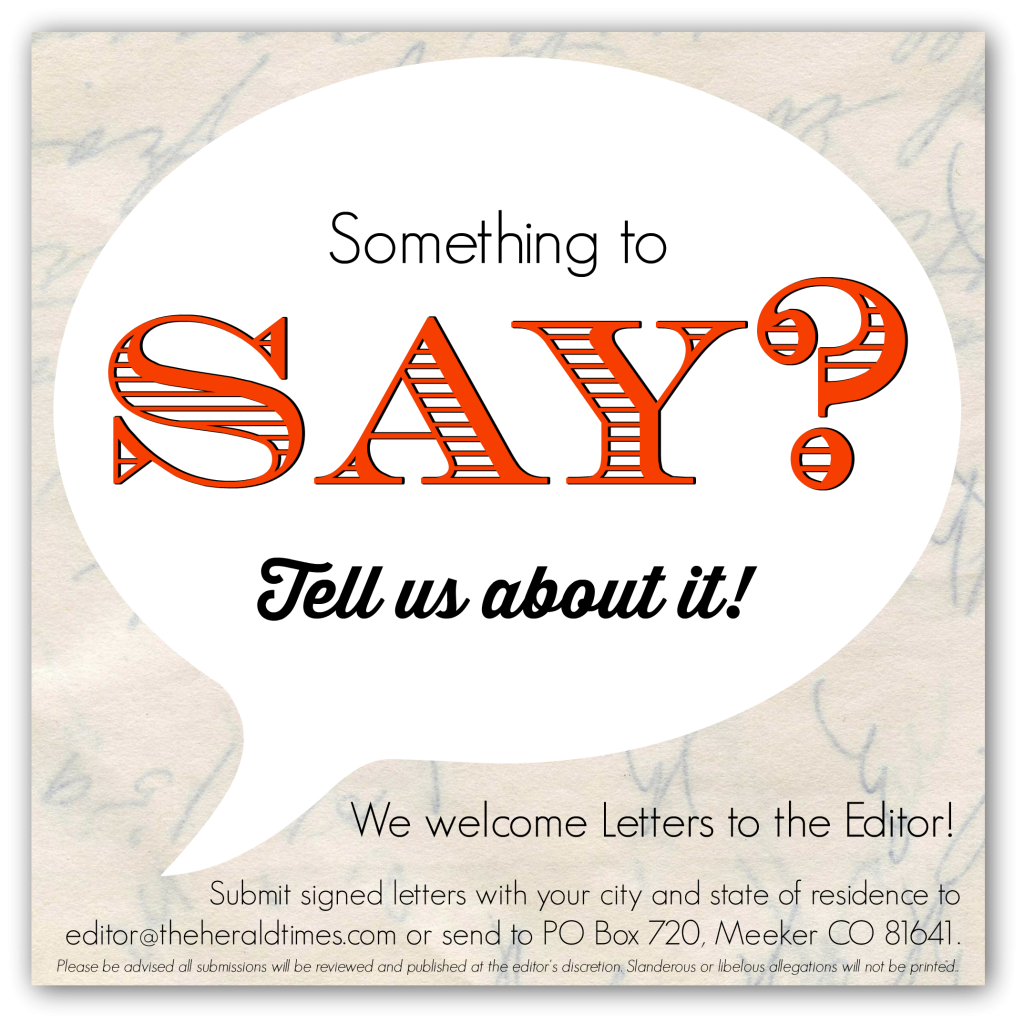 ---
Thoughts expressed on opinion pages are exclusively those of the writer and do not necessarily reflect those of the Herald Times. You are welcome to submit signed letters on matters of local interest to editor@ht1885.com, mail to PO Box 720, Meeker, CO 81641 or drop off at 304 4th St., Meeker. there is no charge.
Due to space constraints, please keep submissions 500 words or less.