Dear Editor:
One person's junk is another person's loss of property value and quality of life. We have put thousands of dollars and many, many hours into beautifying our property here in Rio Blanco County just to have what we do aesthetically destroyed by our neighbor's rapidly growing rubbish and junk filled property.
After a 10-month process requesting the County to enforce the Rio Blanco County Land Use Regulations (LUR), Article 15, we have decided to write this letter, knowing there are others in this beautiful County who likely feel the same way we do. Most likely they are scared to complain, and with good reason, as to do so they may be humiliated and put down by two of our Commissioners, as we were.
Back in March of this year after putting up with our neighbor's junk for years, both near our property and actually some on our property, we filed a complaint with Rio Blanco County. Surprisingly, after going through the process as outlined by the LUR, Article 15, we were notified by the Rio Blanco County Board of Commissioners that they would not be enforcing their own Land Use Regulations. That included cleaning and mowing an area around the huge wood pile for fire mitigation to which absolutely nothing was done. A little bit of junk was moved a while back giving us hope, but apparently only making room for an old motorhome to be towed in two weeks ago. It obviously doesn't run or it wouldn't have needed towing in by a semi tractor. What a slap in the face to anyone who thinks Rio Blanco County is a beautiful place to live, work and do business, or possibly move their business to, which could bring new jobs and opportunities.
In one statement by Commissioner Moyer, he said his biggest concern was that the regulation could open the door for feuds between neighbors, apparently thinking that one neighbor having rubbish and junk and the other not having rubbish and junk makes for peaceful living! That doesn't even make sense, as the feud already exists. Commissioner Rector said he didn't want another "policing agency" for rubbish, junk, weekends and brush. Well, Commissioner Rector, you already have the law in your Land Use Regulations and you, the Commissioners, are the policing agency, along with other County employees. That is the way it is written.
We write this letter to the editor, not to make enemies of those who insist on having rubbish and junk, but to inform them that not everyone enjoys junk as much as they do.
We realize property that is zoned agricultural is exempt from the Article 15 regulations, as it should be, but our neighbor is not zoned agricultural.
Commissioner Moyer has often stated he is for property owners' rights and the protection of those rights. If this is true, why doesn't he protect our rights also, that just happen to be in the law instead of just protecting those who violate the laws or want no laws?
We challenge those people who care to look as you travel to other places in this great Country and pay particular attention to rubbish and junk. If you do this you will likely come to the conclusion that sadly, Rio Blanco County has a serious problem with junk! If this problem is not slowed or has a change of direction, it is our opinion, it may be branded forever. It is very difficult and costly to clean up huge amounts of rubbish and junk once it is acquired, but it is much easier to clean up if it never has been acquired in the first place. This is according to the regulations that are already in place, that our Commissioners are again picking and choosing who or where the regulations will be enforced, as there are several places they have been enforced.
We welcome anyone, including the Commissioners, to come walk up on our hill when the ground is bare to see first hand the trash that has blown over on us and the scrap bones littering our property.
If you're tired of seeing useless junk in our county please contact RBC attorney Don Steerman at 970-878-9680, Commissioner Ty Gates at 970-878-9430, Commissioner Jeff Rector at 970-878-9437, or Commissioner Gary Moyer at 970-878-9678. Think about if all that junk were in your backyard!
Sincerely,
John and Connie Kelley
Highway 64, Meeker
---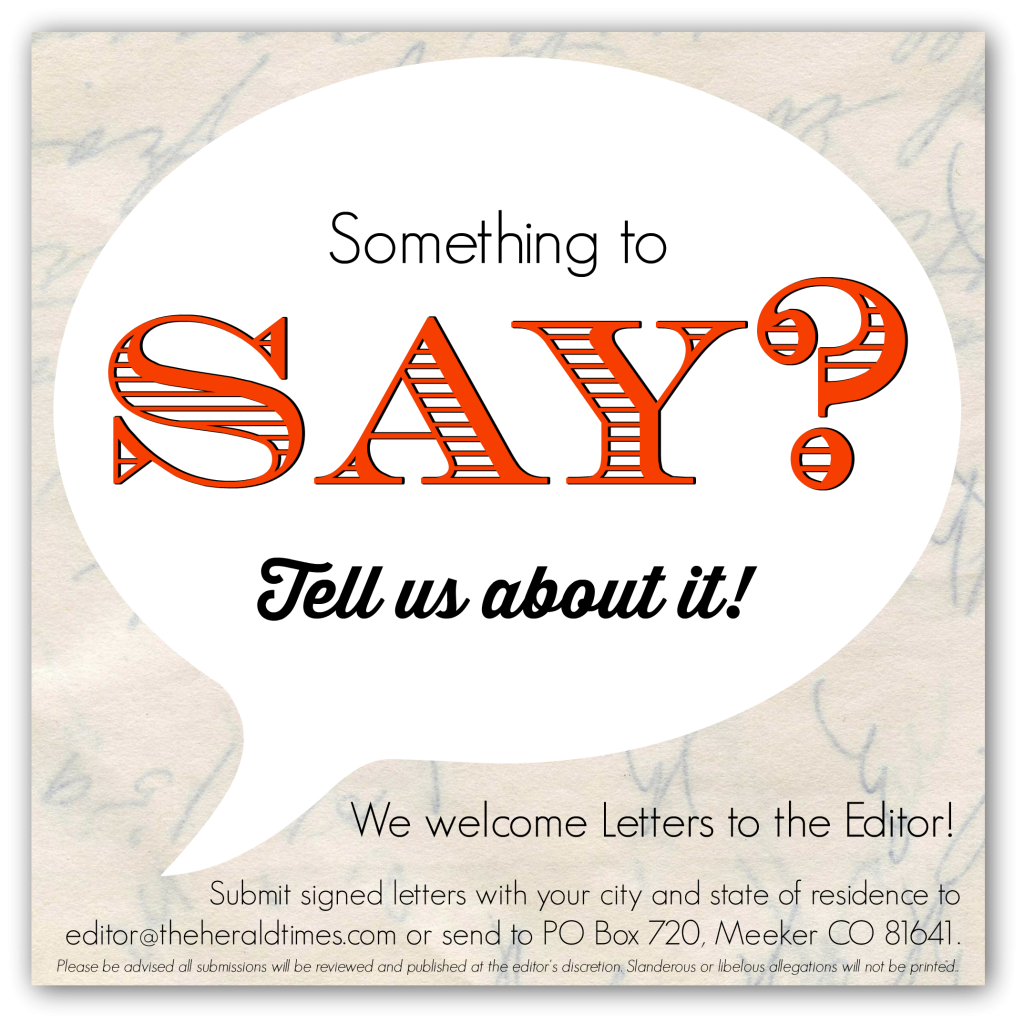 ---
Thoughts expressed on opinion pages are exclusively those of the writer and do not necessarily reflect those of the Herald Times. You are welcome to submit signed letters on matters of local interest to editor@ht1885.com, mail to PO Box 720, Meeker, CO 81641 or drop off at 304 4th St., Meeker. there is no charge.
Due to space constraints, please keep submissions 500 words or less.